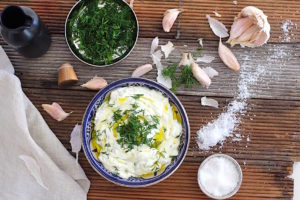 300g natural Greek thick yoghurt
1 Lebanese cucumber, halved lengthways and deseeded
1 garlic clove, crushed
1 tablespoon white wine vinegar
1 tablespoon extra virgin olive oil
1 tablespoon dill, finely chopped
1 teaspoon sea salt flakes
Grate cucumber and sprinkle with sea salt. Sit for 10 minutes and then firmly squeeze out the moisture.
Add all ingredients to a bowl and stir to combine.