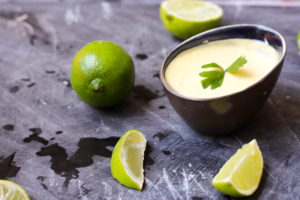 Lime Aioli
1 garlic clove, crushed
1 room temperature egg, separated
1 tsp dijon mustard
1 tbs fresh lime juice
250g light olive oil
Sea salt flakes
Cracked pepper
Prepare aioli by adding garlic, egg yolk, salt, pepper, mustard and lime juice to a blender or Thermomix with butterfly insert speed 4/20 sec. With the motor running, very slowly add oil until the aioli starts to emulsify. Add reserved egg white and pulse for 10 seconds. Refrigerate.