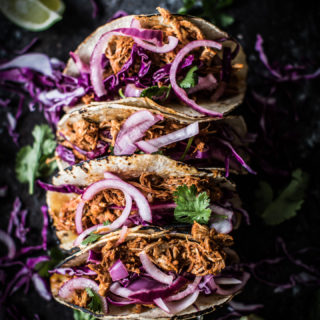 AUTHENTIC MEXICAN PULLED PORK TACO RECIPE (COCHINITA)
Prep time: 10 mins
Cook time: 1 hour
Total time: 1 hour 10 mins
1 kg pork leg or shoulder, cut into 5cm chunks
Pork Marinade
¾ cup white wine vinegar or apple cider vinegar
¾ cup water
50g achiote paste
1 brown onion, halved
1 garlic clove
1 tbs sea salt flakes
Picked Red Onion
1 red onion, thinly sliced
Juice of 1 lime
½ tsp sea salt flakes
To serve
Gluten free corn tortillas
Red cabbage, shredded
Coriander, chopped
Combine all marinade ingredients in a food processor and blitz to form a smooth paste.
Place pork in pressure cooker or large pot and pour over marinade. Close the lid and cook in pressure cooker for 1 hr on low setting or 3 hrs on low heat in a regular pot. Whilst pork is cooking prepare the pickled onion by combining onion, lime juice and sea salt in a bowl. Set onion aside for 1 hr to pickle. When pork is ready shred pork with a fork.
Cook tortillas directly on open fire for maximum heat and crispy edges. Heat on one side for about 10 sec and flip over for another 10 sec. If you prefer to use a frypan cook tortillas over dry heat. Cover tortillas with a tea towel to keep warm and soft.
To serve fill warm tortilla with pork, picked onion, cabbage and coriander.
Recipe by
Helen Tzouganatos
at https://helentzouganatos.com/pulled-pork-taco-recipe-cochinita/