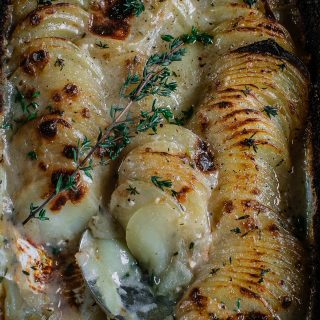 DAIRY FREE POTATO GRATIN RECIPE
Prep time: 10 mins
Cook time: 1 hour 20 mins
Total time: 1 hour 30 mins
1kg unpeeled white potatoes, finely sliced on mandolin
1 tablespoon extra virgin olive oil
1 large shallot, finely grated
2 garlic cloves, finely grated grated
2 teaspoons fresh thyme + extra to sprinkle
2 teaspoons nutritional yeast
½ teaspoon freshly grated nutmeg
400ml coconut cream
250ml chicken stock
2 tablespoons tapioca flour
sea salt flakes and cracked pepper
Preheat a fan forced oven to 200C and grease a 20 x 25cm rectangular baking tray.
In a medium saucepan add oil, shallots and a generous pinch of salt. Sauté for a few minutes to soften the shallot then add the garlic, thyme, nutritional yeast and nutmeg. Sauté for a further 30 seconds.
Pour in the coconut cream and chicken stock and gently simmer for 10 minutes uncovered to reduce the sauce. Add the tapioca flour to a small bowl and whisk in ¼ cup of the simmering sauce to form a paste. Stir the paste back into the sauce and simmer for 1 minute to thicken. Remove from the heat, taste the sauce and add extra salt if required.
Stack rows of potato slices in vertical layers in the tray. Pour the creamy sauce over the potatoes and sprinkle with pepper and extra thyme leaves. Tightly cover the tray with a sheet of baking paper and aluminium foil. Bake for 1 hour then remove the foil and bake for a further 20 minutes uncovered. For an extra crispy golden top blast with heat under a hot grill for 5 minutes. Rest for 10 minutes prior to serving.
Recipe by
Helen Tzouganatos
at https://helentzouganatos.com/dairy-free-potato-gratin-recipe/