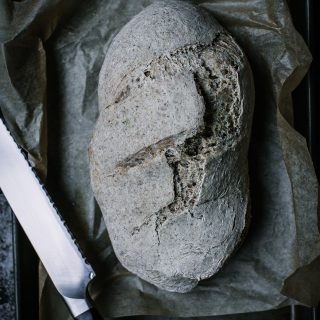 YEAST FREE GLUTEN FREE VEGAN BREAD RECIPE
Prep time: 5 mins
Cook time: 1 hour
Total time: 1 hour 5 mins
2 tablespoons psyllium husk*
1⅓ cup or 160g tapioca flour
1⅓ cup or 160g buckwheat flour**
1½ teaspoons sea salt flakes
2 teaspoons gluten free baking powder
¼ teaspoon baking soda
¼ cup extra virgin olive oil
* I have used whole psyllium husk not psyllium husk powder. The powder is more concentrated so if you use the powder only use 1 tablespoon.
** Flour weight per cup can vary by brand so always measure by weight, in this instance 160g of flour.
Preheat a fan-forced oven to 180C.
Add psyllium husk to 1 cup (250ml) water and whisk to combine. Set aside to thicken for 5 minutes.
In a mixing bowl with a dough hook attachment add all the dry ingredients and mix to combine.
Add wet psyllium mixture and olive oil to the dry ingredients and mix with a dough hook on low speed for about 3 minutes until a ball of dough is formed. If the mixture is too dry add more water, if too wet add more tapioca flour.
Knead dough into a log and place onto a lined baking tray. Slice 3 incisions on top of the loaf and brush with extra olive oil. Bake for 1 hour until golden. Transfer to a wire rack to cool completely before slicing.
Recipe by
Helen Tzouganatos
at https://helentzouganatos.com/yeast-free-gluten-free-vegan-bread-recipe/