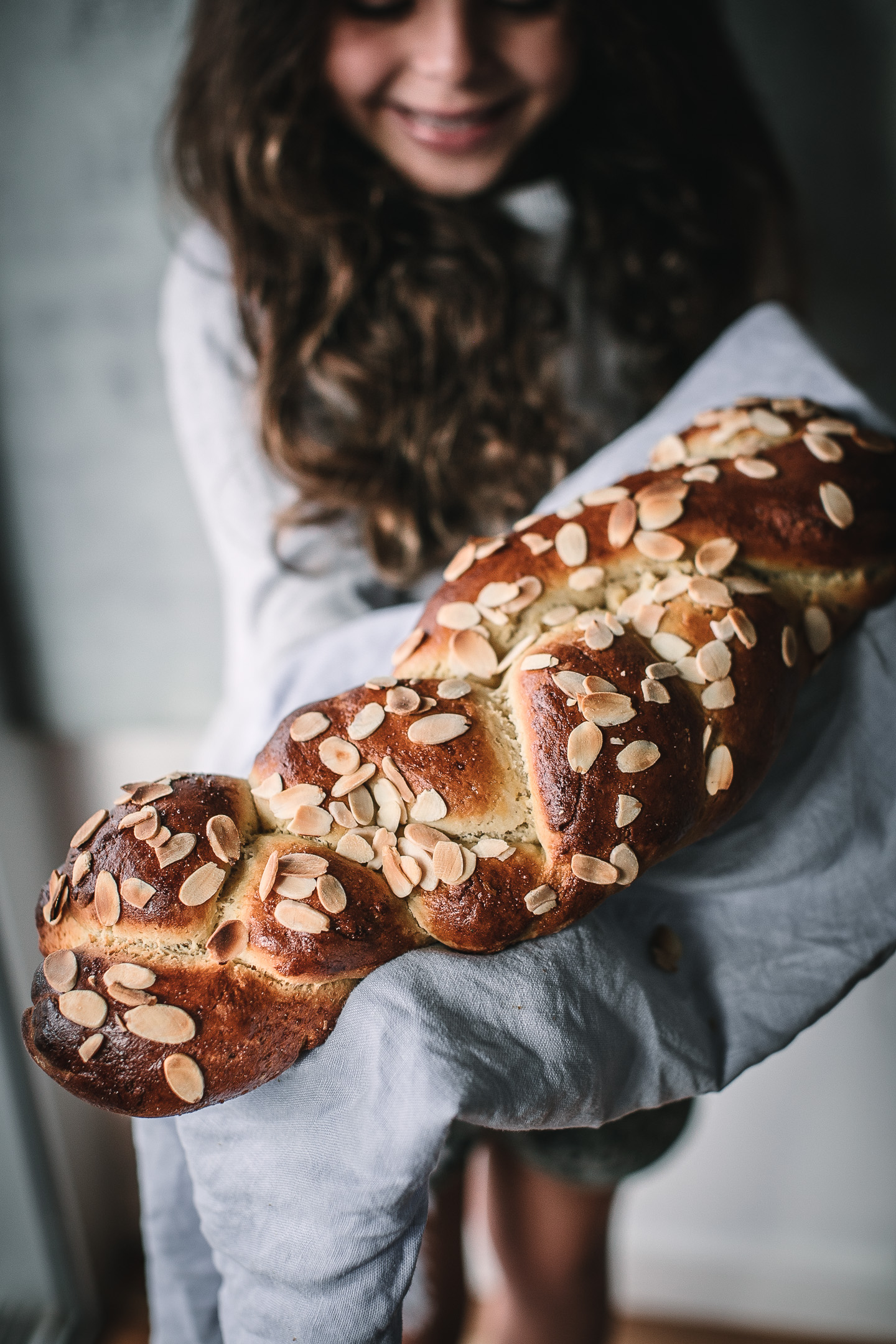 Tsoureki is a traditional Greek sweet bread baked at Easter. It is impossible to find a gluten and dairy free version in a Greek bakery so I created an allergy-friendly tsoureki so you no longer have to miss out on this deliciously fragrant festive bread. Infused with mahlepi, mastiha, orange and lemon zest for stunning aroma and flavour,  it bakes just like a regular tsoureki minus the gluten and dairy!
Mahlepi and mastiha are two distinct aromatic spices synonymous with Greek Easter baking.  Mahlepi is made from the ground seeds of the mahaleb cherry and mastiha is a crystal resin derived from the mastic tree exclusive to the Greek island of Chios. A small amount of both sweet spices will go a long way in flavouring the bread and filling your house with the smell of Greek Easter. Mahlepi and mastiha can easily be found in any European grocer, deli or online.
The biggest challenge when baking tsoureki without gluten and dairy is achieving a light texture. Gluten is the protein that makes the dough light and fluffy so you need to try and recreate this texture with a dough that does not stretch like regular tsoureki dough. The stringy strands in regular tsoureki are actually strands of gluten so it is impossible to recreate the exact same stringiness without gluten. In this gluten free tsoureki recipe the texture of the dough is more like a soft sweet bread that is still pliable. If you just replace the flour in a regular tsoureki recipe with gluten free flour your bread will be dense and heavy but with a few tips and tricks you can make it softer and lighter –
Add baking powder to act as a second raising agent to the yeast. Baking powder will add a softness to the dough and help it 'pop' in the oven for a lighter texture versus yeast alone.
Add a small amount of xantham gum to help stretch the dough. A little goes a long way.
Rest the dough twice. Firstly for 2 hours in a greased bowl until it at least doubles in size and secondly after the dough is braided for another 1.5 hours.
Find the warmest spot in your home to rest the bread for a better rise. I look for a very sunny spot near a window and wrap the bowl tightly to trap the warm air. On a cold day preheat the oven to 50C, turn it off and rest the bowl inside the oven.
Do not dust extra flour on the sticky dough as this will toughen the bread. Gluten free tsoureki dough is wetter and stickier than regular dough so it is more challenging to work with. To make the soft sticky dough easier to handle after the first 2 hour rise, place the puffy dough in the fridge for 30 minutes to firm up.
Use baking paper or cling wrap to handle the sticky dough. After the first rise divide the rested dough into three portions and work with one ball at a time.  Rub a little olive oil over each ball to help shape the dough with less stickiness. Greasing your hands with olive oil helps stop the dough from sticking to you. Very gently shape each ball of dough into a log using the baking paper. Roll the log in the paper to smooth the surface of the dough.
Be patient! Tsoureki requires patience and proper resting. Start the recipe in the morning so you have plenty of sunlight through the day to rest the dough and you are not tempted to rush through the process.
If you are finding the plait too fiddly an easier option is to shape the rested dough into one or two round  tsoureki loaves. This is the simplest option and shape. Brush with loaves with egg wash and sprinkle with almonds as you normally would.
If you have any remaining gluten free tsoureki bread after a couple of days, slice it and store it in the freezer for up to a month. Toasted tsoureki is delicious topped with jam, butter and cinnamon sugar or chocolate hazelnut spread. The options are endless!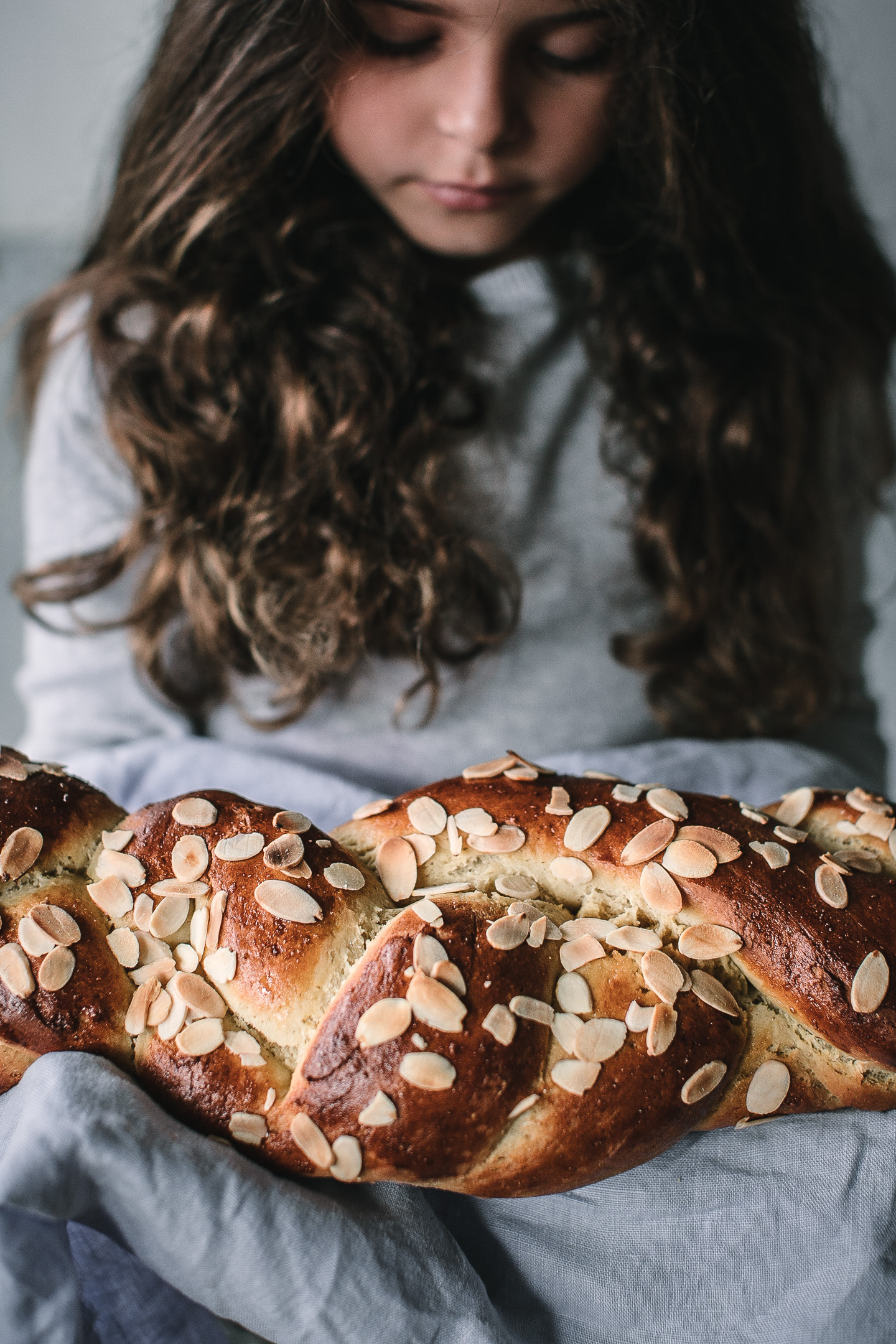 GLUTEN AND DAIRY FREE TSOUREKI RECIPE
Prep time:
Cook time:
Total time:
Ingredients
250ml lukewarm water
7g dried yeast sachet + 1 teaspoon caster sugar
650g or 5 cups gluten free flour*
180g caster sugar
2 tablespoons baking powder
½ teaspoon xantham gum
½ teaspoon crushed sea salt flakes
2 teaspoons mahlepi
½ teaspoon ground mastiha
4 organic eggs, room temperature
¼ cup light olive oil
1 teaspoon vanilla extract
½ teaspoon orange zest
½ teaspoon lemon zest


1 organic egg, whisked
flaked almonds to garnish


* I use Bob's Red Mill 1 to 1 plain gluten free flour or Ardor plain gluten free flour. A different brand may not deliver the same result.
Instructions
Combine water, yeast and sugar in a measuring jug. Set aside for 15 minutes to foam.
In a mixing bowl with the dough hook attached add flour, sugar, baking powder, xantham gum, salt, mahlepi and mastiha. Mix on low speed until combined.
In a small bowl whisk together the eggs, olive oil, vanilla extract and both zests. Pour the foamy yeast mixture into the egg mixture and whisk together to combine.
With the dough hook mixing on low speed, slowly pour the wet mixture into the dry ingredients bowl. Mix on low speed for about a minute just until a dough is formed. Do not overmix.
Transfer the dough to a greased bowl. Cover the bowl in cling wrap and wrap in a towel. Place bowl in the warmest spot you can find and rest dough for 2 hours so that it at least doubles in size. If it is a cold day preheat the oven to 50C, switch it off and place bowl in the oven.
At this point the soft rested dough will be puffy and sticky. Divide the dough into three portions. Do not add more flour or this will toughen the dough. To make the dough balls easier to handle and less sticky pop them in the fridge for 30 minutes to firm up. Rubbing a little olive oil all over each dough ball also makes them easier to shape. Use baking paper or cling wrap to help shape each ball into three logs of equal length. If you don't want to braid the dough an easier option is to just shape the dough into a round loaf or two round mini loaves.
Place the logs onto a lined baking tray and braid the tsoureki (not too tightly, keep it loose so the dough has room to expand). Cover with a tea towel and let the dough rise again for 1.5 hours in a warm spot.
Preheat fan forced oven to 180C. Brush tsoureki with egg wash, garnish with almonds and bake for 30 minutes or until golden. Cool before slicing.