Chicken and spinach meatballs served in a rich tomato sauce are a family favourite in our household. My kids love anything small, playful and delicious and these juicy flavourful meatballs certainly deliver on taste. The kids have no idea these meatballs are crammed with healthy vibrant greens like baby spinach and parsley. I feel great knowing I've snuck a few extra veggies on the dinner plate for a wholesome, nutritious family dinner.
I love meatballs because there is a sense of comfort and nostalgia that comes with preparing and eating them. Not only are they quick and easy to make, the are also incredibly versatile. In this recipe you can swap the Free Range Chicken Mince for pork, veal, beef, or even a combination of minces. All meats work in this recipe but I have opted for a free range chicken mince because it is a crowd pleaser.
My chicken and spinach meatballs are served on a fluffy bed of Macro Organic Tri-Colour quinoa with Woolworths Free From Gluten Seeded Bread to mop up that intensely flavoured tomato sauce. Quinoa is a healthy choice as it is 100% whole grain and contains protein, fibre and iron. The lightness of the quinoa also perfectly balances the richness of the sauce and flavoursome meatball. 
Before you begin, here are my tips for perfect meatballs-
Season generously! A combination of both fresh herbs like parsley and dry spices like cumin are vital – they add serious flavour to your meatballs. For added variety try dried oregano, marjoram or mint.
Add moisture to avoid a tough, dry meatball. In this recipe I add one egg to bind as well as Woolworths Free From Gluten Free Breadcrumbs soaked in milk to keep the meatballs moist.
Refrigerate your meatball mixture for at least 30 minutes prior to rolling. Resting the mince mixture helps flavour develop and makes the meatballs easier to roll.
Wet your hands prior to rolling the meatballs to prevent the mince from sticking to you.
Don't roll the meatballs too tightly. You want them to be light and airy so they are fluffy and soak in all the sauce.
Sear the meatballs until browned. This does not mean cooking them through at the first stage. Sear them quickly to form a brown crust and seal in the moisture and flavour.

 
One last thing. Meatballs are easy to freeze so they are a great option for a busy mid-week dinner. You can double this recipe and freeze half the meatballs to cook on a busy weeknight. Just thaw the meatballs to room temperature prior to cooking. 
A comforting, nostalgic, nutritious and delicious gluten free* family dinner. Enjoy!
This recipe was created in partnership with Macro Wholefoods Market, available only at Woolworths .
*Always check the label to ensure the products and ingredients in this recipe are right for your needs.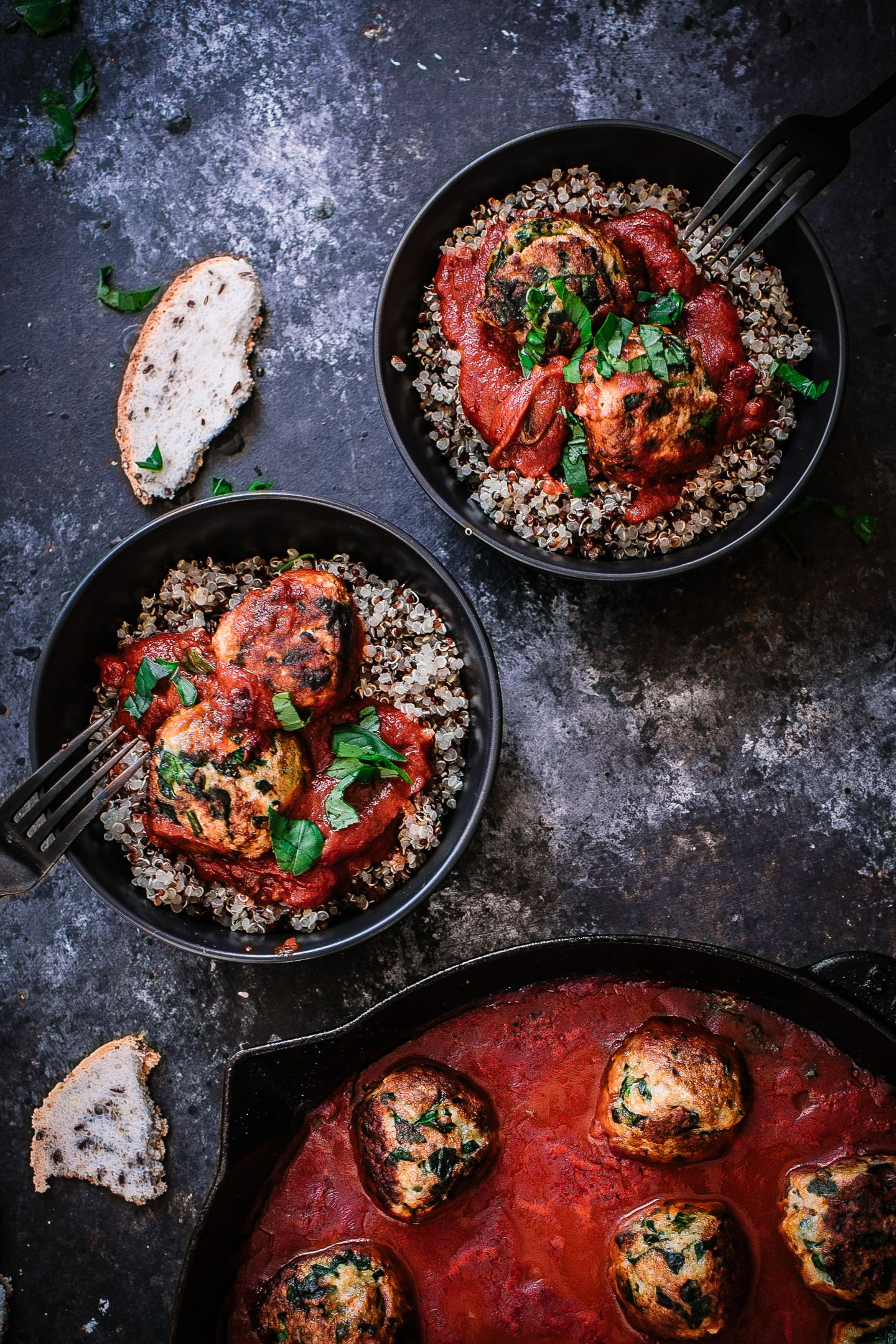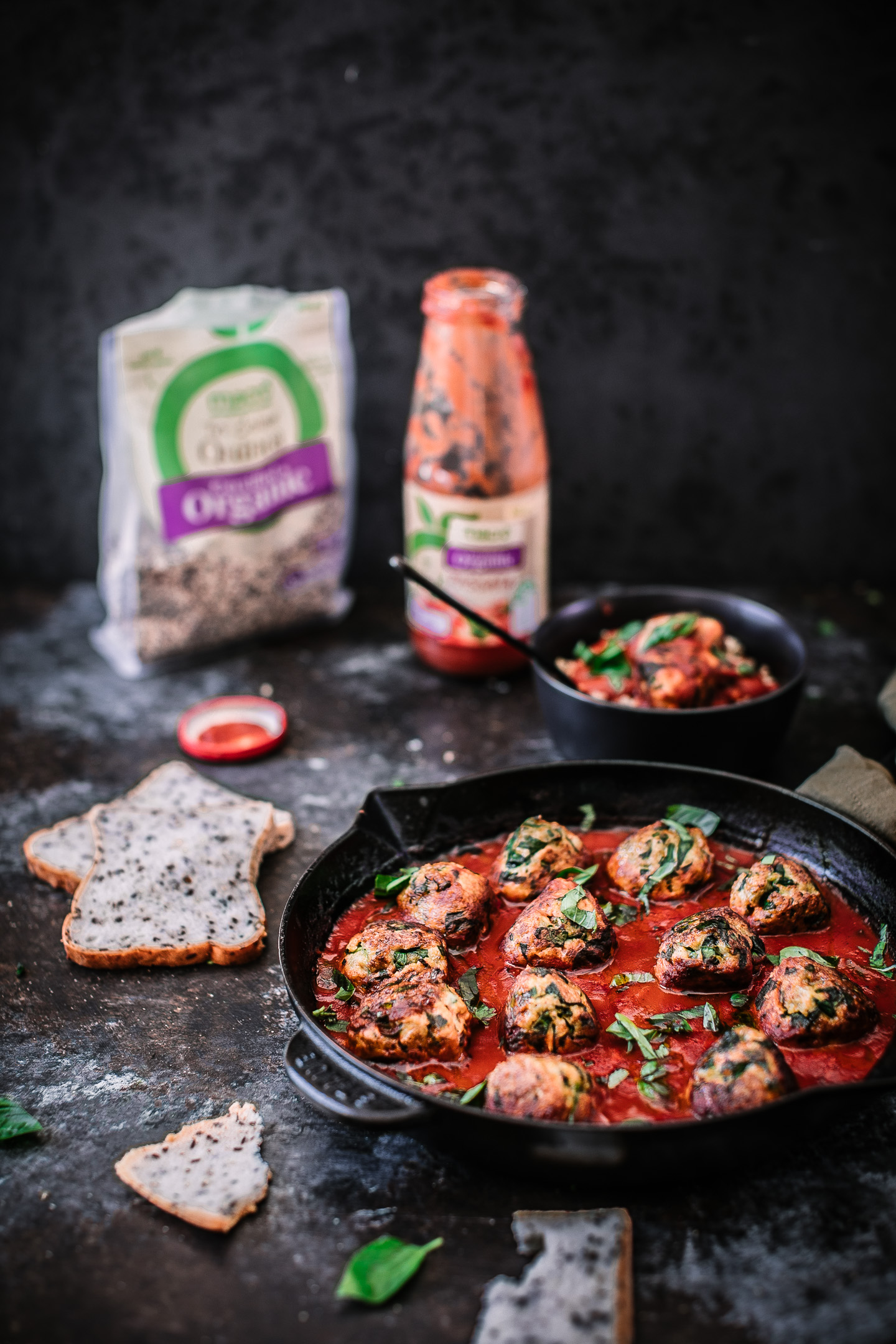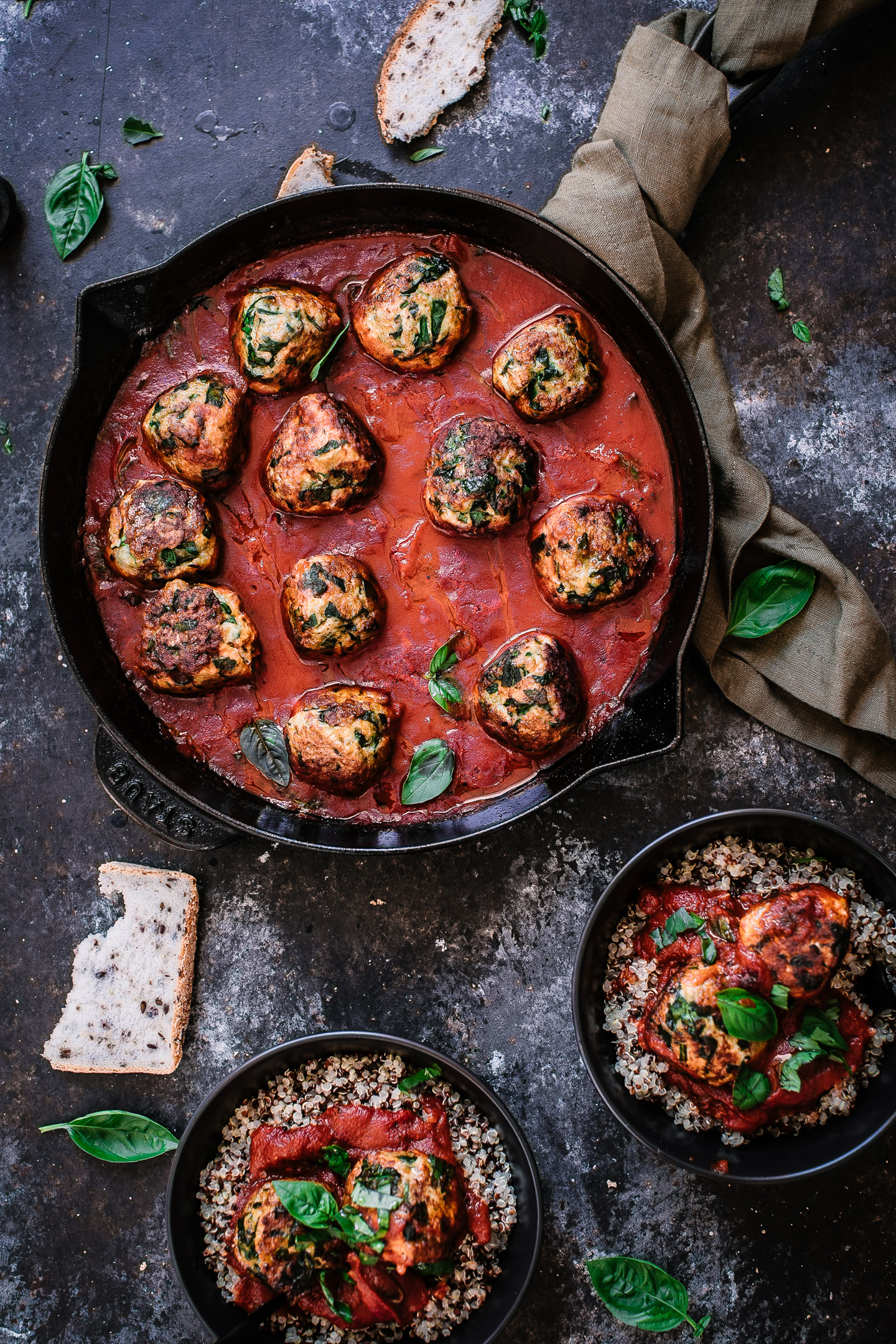 Chicken and Spinach Meatballs in Rich Tomato Sauce Recipe
Prep time:
Cook time:
Total time:
Ingredients
Chicken and Spinach Meatballs
500g Free Range Chicken Mince
2 cups baby spinach, finely chopped
¼ cup organic Fresh Parsley, chopped
¼ cup Woolworths Free From Gluten Free Breadcrumbs (soaked in 1 tbs milk of your choice)
2 garlic cloves, crushed
1 egg
Zest of small lemon
2 tsp cumin powder
Generous pinch of sea salt flakes and cracked pepper


1 tbs organic extra virgin olive oil


Rich Tomato Sauce
1 tbs organic extra virgin olive oil
1 brown onion, diced
400g organic Passata
½ cup gluten-free chicken stock
¼ cup fresh basil leaves, chopped


To Serve
Macro Organic Tri-Colour Quinoa
Woolworths Free From Gluten Seeded Bread
Instructions
Place all ingredients for meatballs in a bowl and mix well by hand to combine. Refrigerate mixture for 30 min to firm up and then roll into about 16 meatballs.
Add a tbs of olive oil to a large sauté pan on medium-high heat. Sear meatballs for a few minutes by continuously rotating them in pan until golden. Remove meatballs from pan and set aside.
For the sauce, add olive oil to the pan and sauté the onion for a few minutes. Scrape the bottom of the pan to capture all the caramelised bits from the meatballs. Add remaining sauce ingredients to pan and stir to combine. Season with some extra salt and pepper.
Return meatballs to the pan and simmer for 20 minutes with lid on to thicken sauce and cook meatballs through.
Cook quinoa according to pack directions and serve with Free From Gluten Seeded Bread.