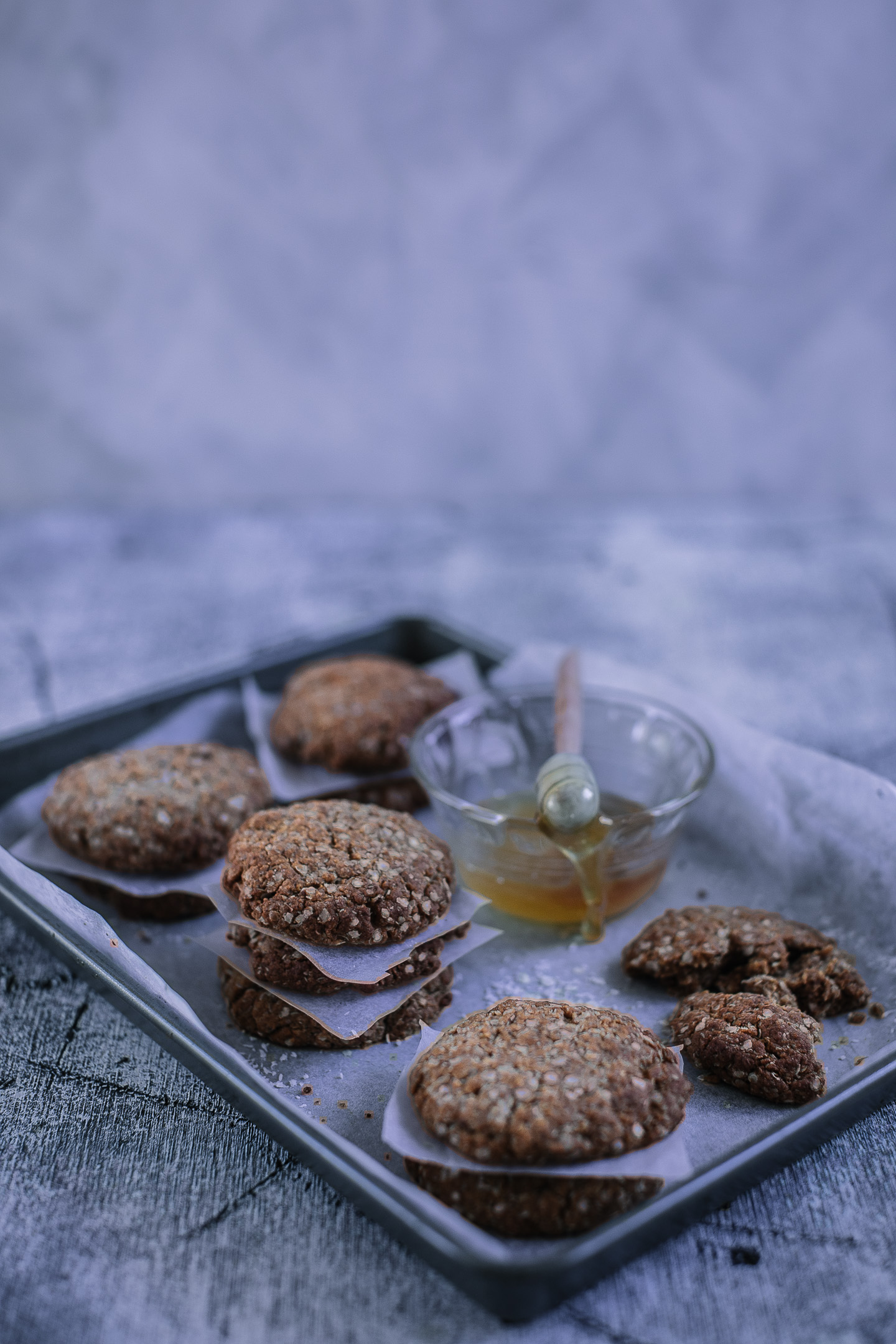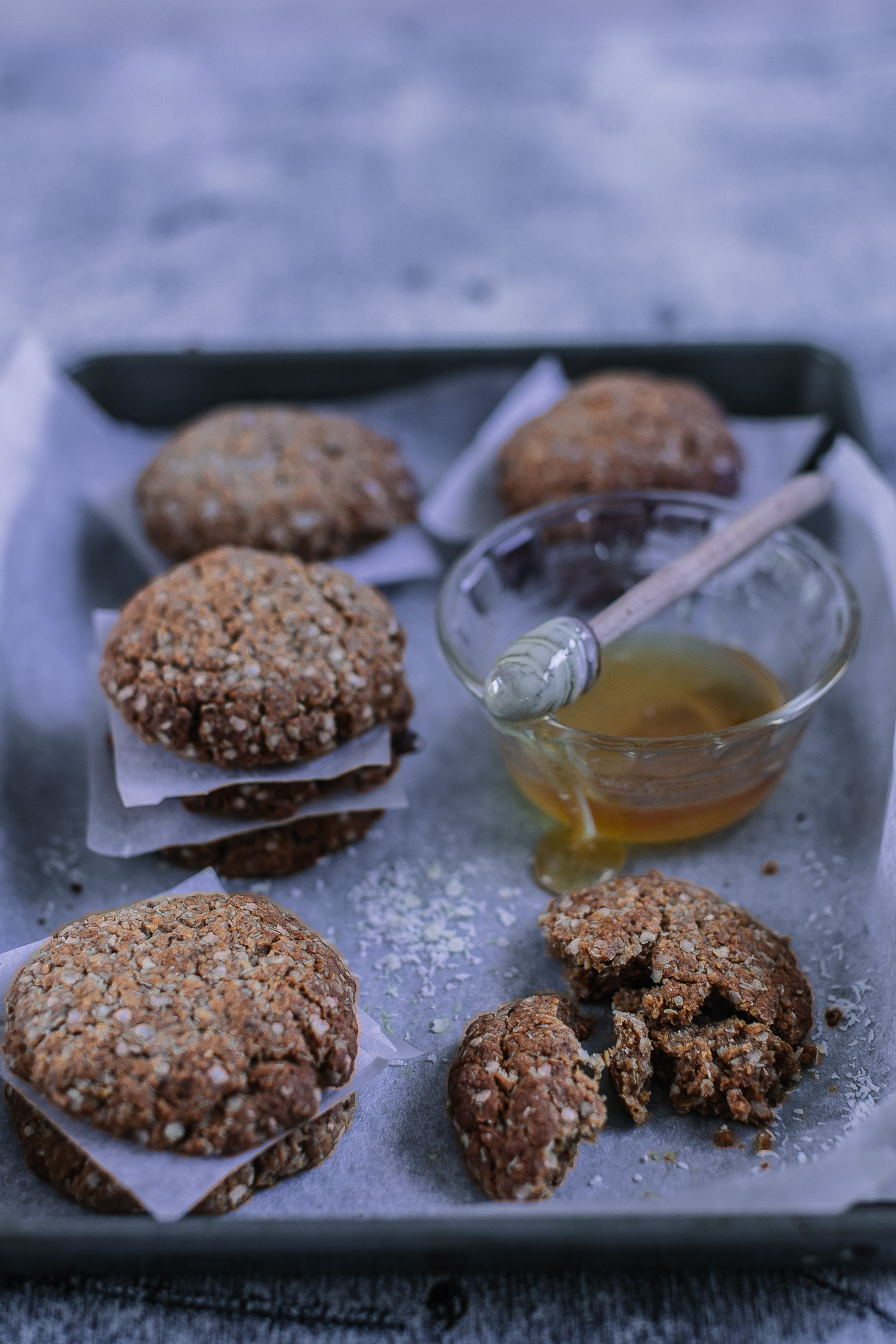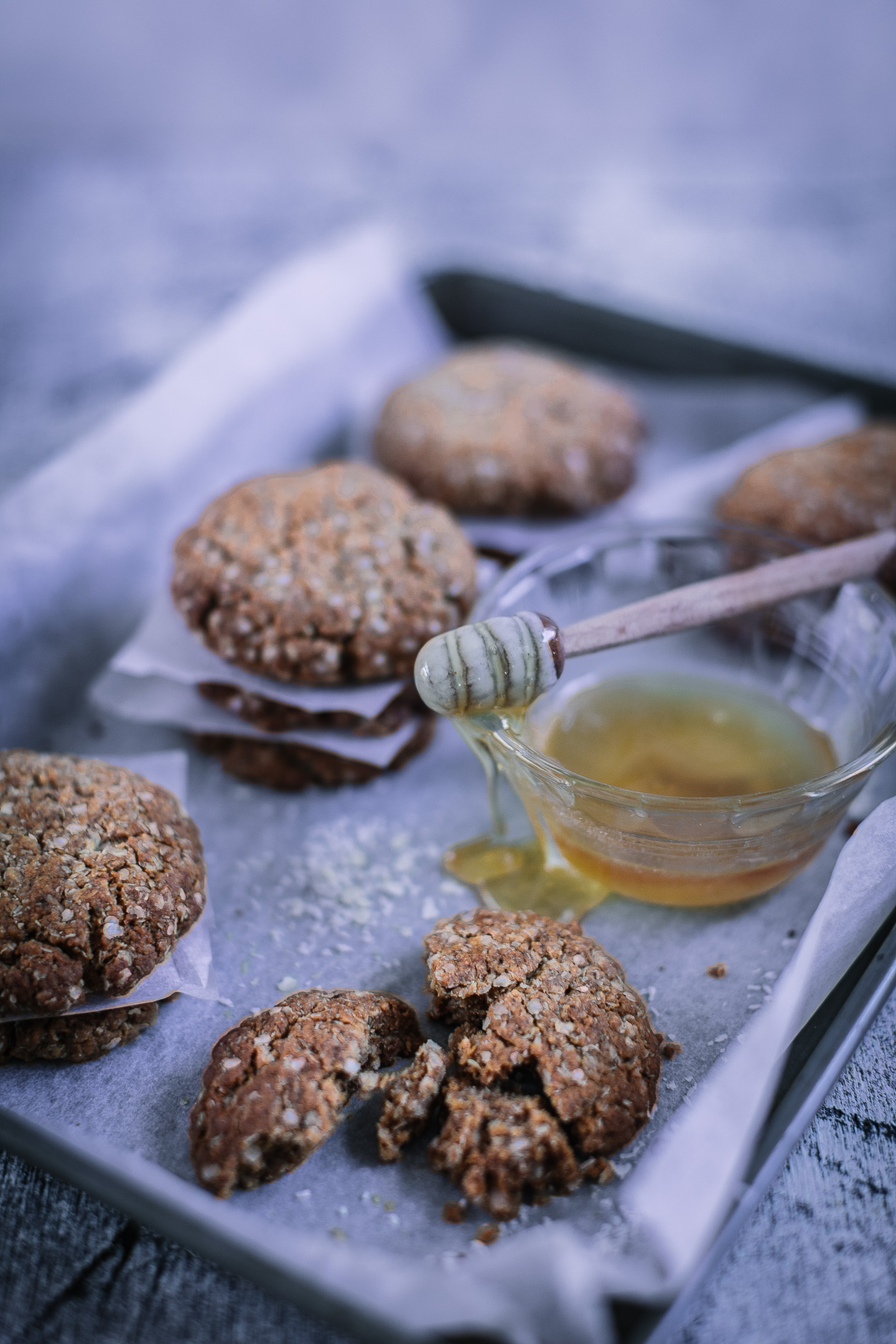 I love giving traditional recipes a healthy makeover so I decided to tackle Australia's favourite biscuit. ANZAC biscuits are usually made with oats, butter and golden syrup but in my gluten, dairy and refined sugar version I've made some healthy swaps using coconut oil, quinoa flakes, coconut sugar and raw unprocessed honey. They taste delicious with a crispy texture, deep golden colour and more nutrition per bite.
Quinoa flakes are a fantastic replacement for oats in baking. Quinoa and oat flakes have a similar appearance but quinoa is a higher quality complete protein in comparison because it contains all essential amino acids. In terms of flavour quinoa has a deeper, earthier flavour than oats so I have only used 2/3 cup in this recipe along with desiccated coconut and plain gluten free flour to form a dough.
Coconut oil is my go-to dairy free alternative in cookies because it delivers a crispy, chewy texture with just a slight hint of coconut. Desiccated coconut is already a key ingredient in ANZAC biscuits so the coconut oil perfectly complements the existing ingredients.
I have used coconut sugar and raw honey to sweeten the cookies but feel free to swap the honey with maple syrup if you would like to make the ANZAC biscuits vegan. Rapadura sugar is another great option if you are looking for a refined sugar free alternative when baking cookies.
ANZAC biscuits do not spread much when baking so if you prefer a thinner, crispier cookie flatten the dough firmly into thin discs. The cookies will stay fresh in an airtight container for up to a week. This recipe is very forgiving so if you are new to baking it is impossible to get wrong. Enjoy!
GLUTEN, DAIRY & REFINED SUGAR FREE ANZAC BISCUITS
Prep time:
Cook time:
Total time:
Ingredients
1⅓ cups plain gluten free flour
1 cup organic desiccated coconut
⅔ cup quinoa flakes
pinch of sea salt flakes
⅔ cup coconut sugar
¼ cup raw honey
1½ teaspoons baking soda + 1 tablespoon boiling water
100g coconut oil, melted
Instructions
Preheat fan forced oven to 180C and line two trays with baking paper.
Add flour, coconut, quinoa and salt to a bowl and mix to combine with a spoon.
Place coconut sugar and honey in a small saucepan over low heat. Stir until the honey sugar mixture melts and simmer for a few minutes over low heat so it is slightly foamy. Take off the heat and stir in the baking soda mixture (this will create extra foaming).
Pour honey mixture and coconut oil into the dry ingredients bowl and thoroughly combine to form a dough.
Roll dough into 14 small balls and flatten firmly with your hands. The cookies will not spread much when baking so for a thin crispy cookie flatten firmly into thin discs. Bake for 10 minutes or until golden.