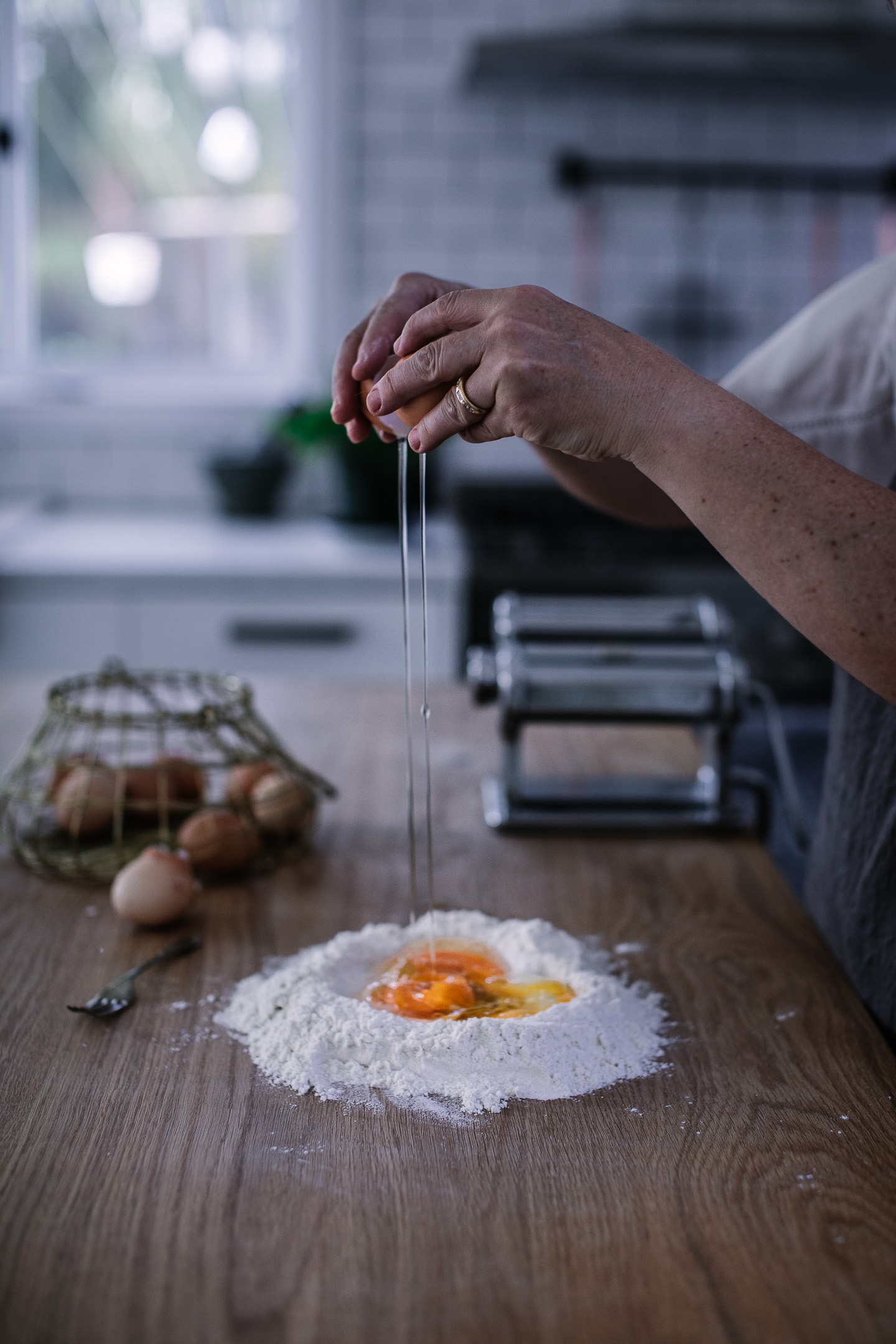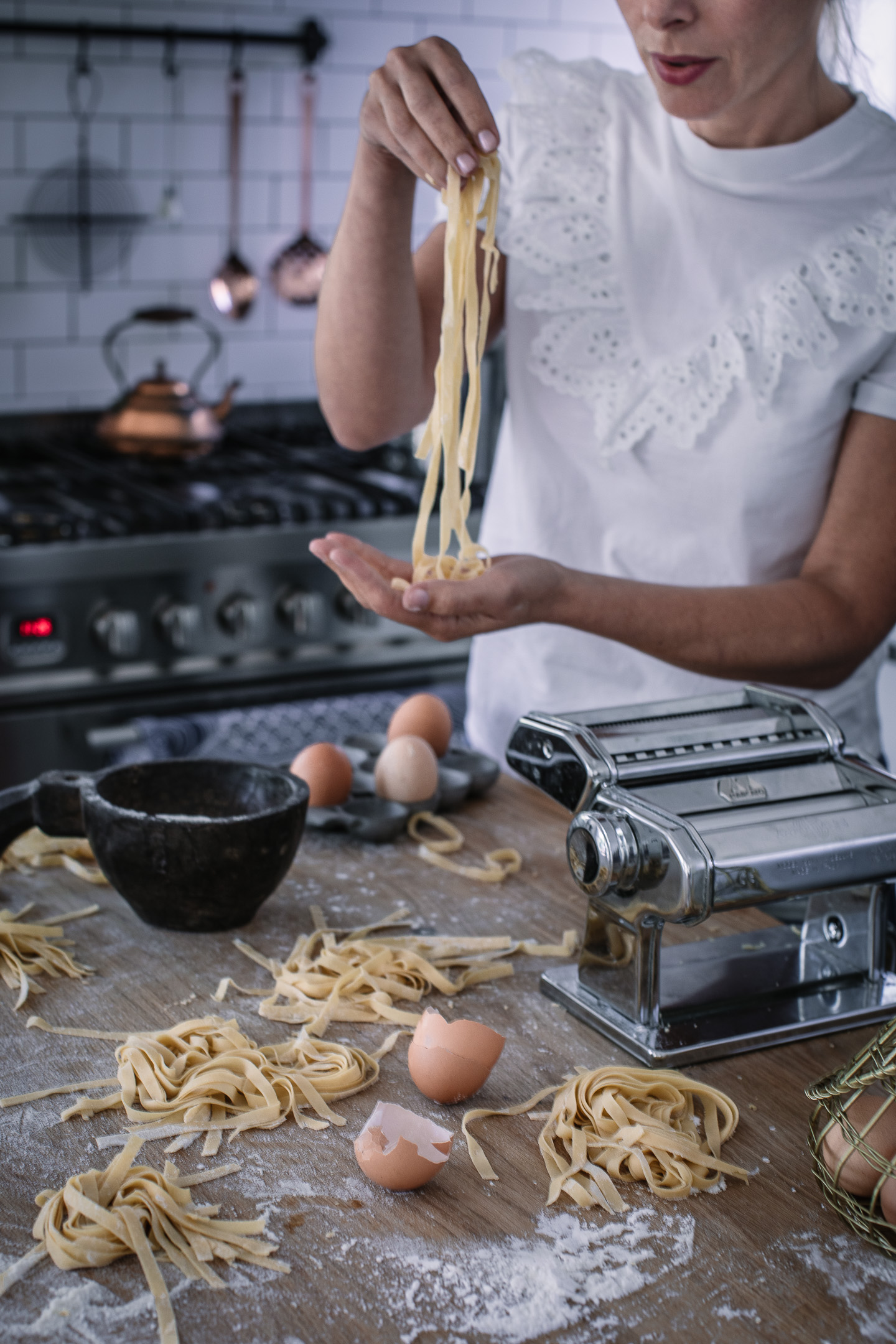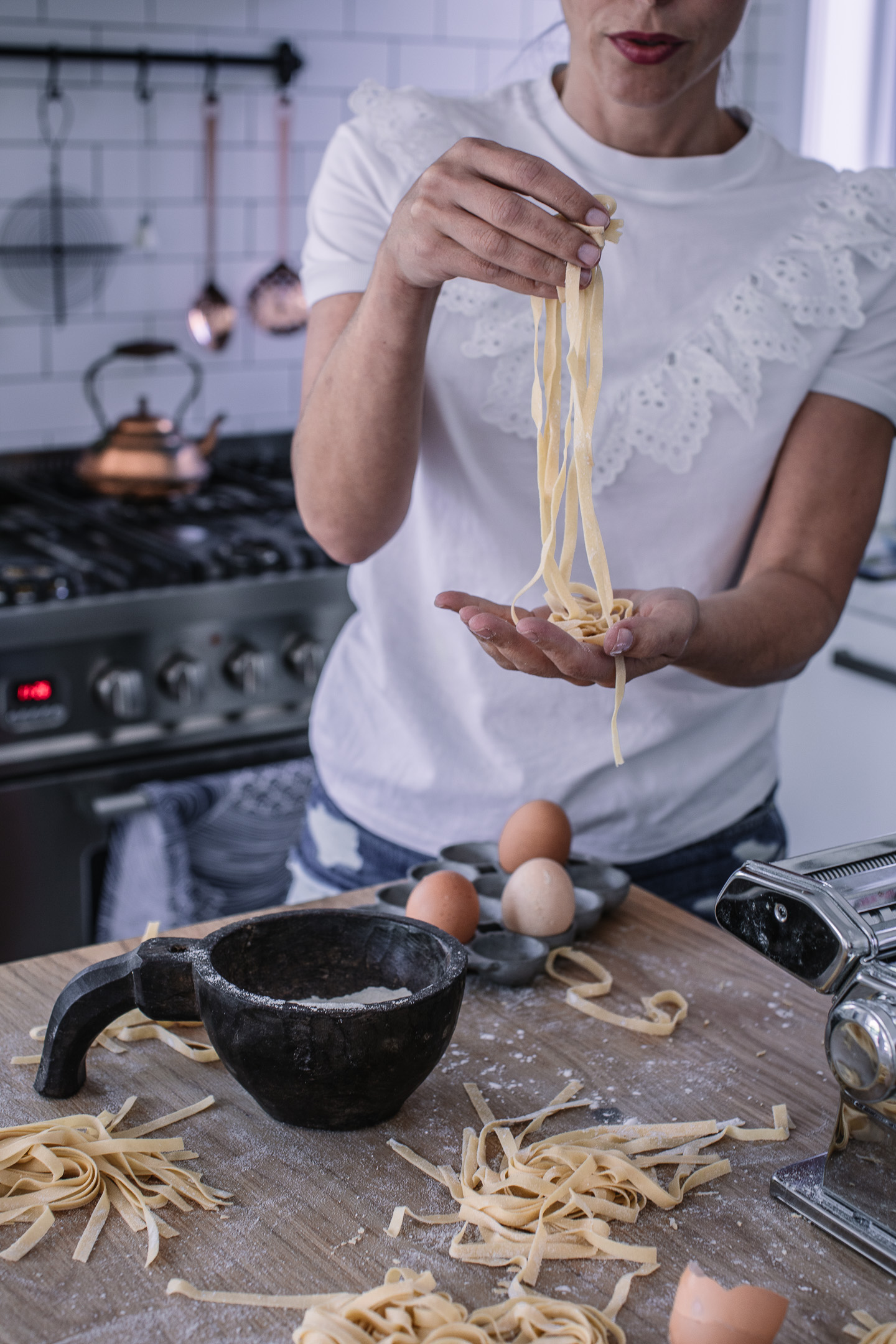 Mastering fresh gluten free pasta has been on my extensive 'to do, make, eat' list for a very long time. I needed expert help here so I sought the guidance of my super talented friend, pastry chef Angela Palermo from The Village Cooks. Trust me Ang ticks all the boxes. Italian, tick. Making pasta from the age of 5 with her Nona, tick. Hilarious and lovely, tick. Will feed me copious amounts of pasta, tick. I couldn't wait to get into the kitchen with Ang to perfect this gluten free pasta recipe.
After a fabulous day playing with pasta dough and different gluten free flours in the kitchen what resulted was the silkiest, most delicate, most beautiful gluten free pasta I have ever tasted. It tastes like regular pasta and is honestly so easy to make, just a simple combination of two gluten free flours – brown rice flour and tapioca. Brown rice flour is a little coarser than other gluten free flours so it holds its shape well and tapioca adds a lovely lightness and silkiness to the pasta strands.
The pasta machine in these images is the Marcato pasta machine ,a fantastic high quality pasta roller. If you prefer an electric roller I highly recommend the pasta attachments that come with the Kitchen Aid. The pasta attachments are easy to use and free up your hands to handle the pasta sheets. You will find most pasta machines have very similar settings and you will know if you have rolled the dough too thinly because it will begin to tear. I recommend resting the dough for 30 minutes prior to rolling to allow the flour to absorb the moisture properly. This makes the gluten free pasta dough easier to work with. If your dough is too sticky at any stage of the process dust with extra tapioca flour.
Initially your gluten free pasta dough will look dry and brittle when you roll it through the pasta machine but don't worry because it will come together as you keep rolling. Just keep folding and rolling on the widest setting 3-4 times until the pasta sheet starts to smooth out. Dust with a little extra tapioca flour between roller settings to stop the pasta strands sticking together when cut.
Once your pasta is made you have two options – cook it immediately or freeze it. Do not place fresh pasta in the fridge because the moisture will change the texture and it may turn gummy. Fresh gluten free pasta does not take long to cook, just 3-5 minutes depending on the thickness of the strands. To freeze the pasta place it in an airtight container and freeze up to 3 months.
Serve your gluten free pasta with your favourite sauce and a generous scattering of fresh herbs and parmigiano-reggiano. Bellissimo!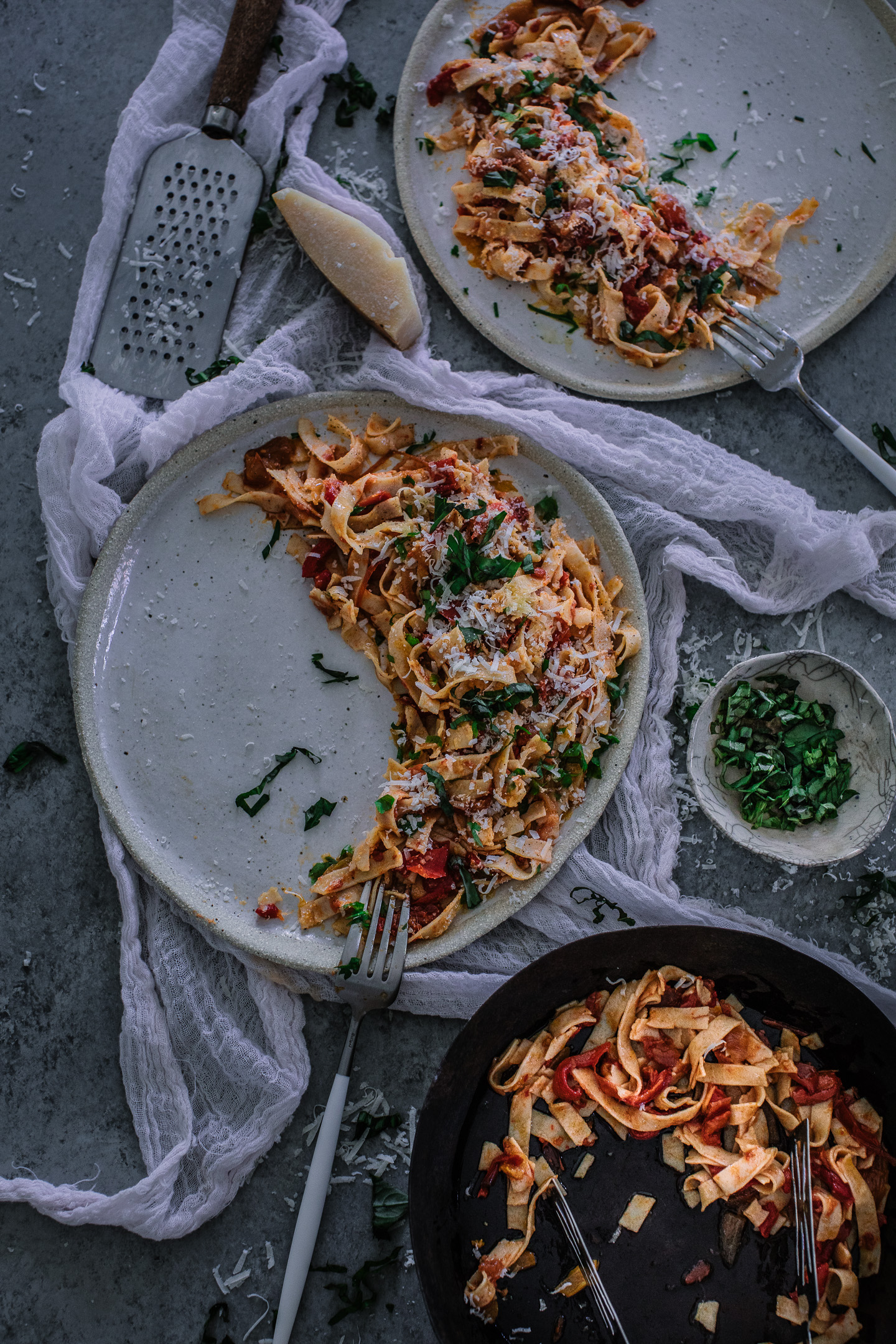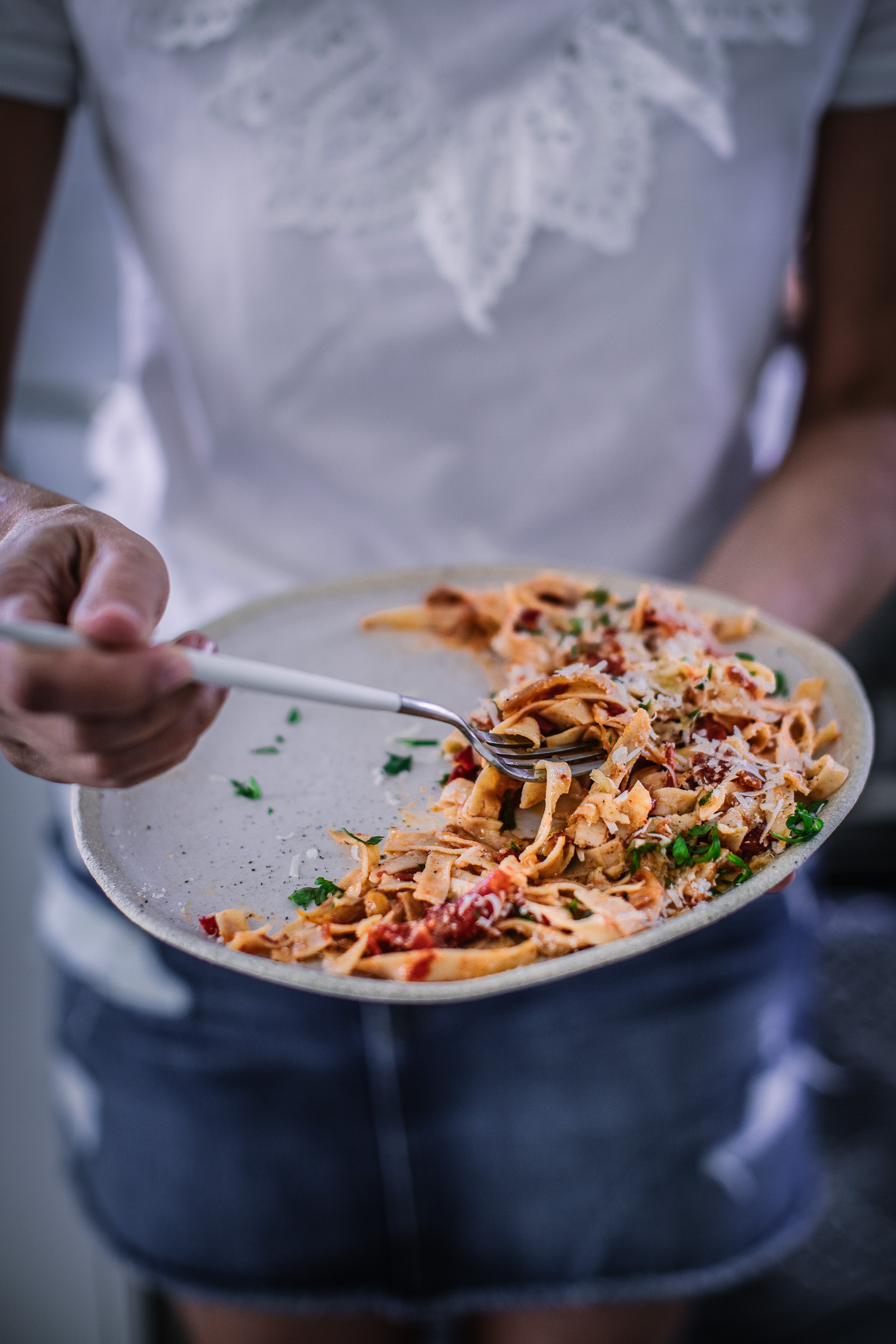 BEST GLUTEN FREE PASTA RECIPE
Ingredients
2 cups or 280g brown rice flour
⅔ cup or 80g tapioca flour
1½ tsp xantham gum
5 large eggs
½ tsp sea salt
Instructions
Method
Add dry ingredients to a mixing bowl and stir to combine. Add eggs to mixing bowl and beat until dough forms. If you prefer to manually form dough tip flour onto a clean bench and create a well in the centre, stir eggs into the flour with a fork until dough forms.
Dust your workbench with extra tapioca flour and knead dough several times to form a smooth ball. Cover dough with a towel and rest for 30 minutes. Divide dough into 5 portions. Start with one portion and cover the others with a cloth to stop dough from drying.
Flatten dough into a rectangular shape and roll through a pasta machine on the widest setting. Initially the dough will look dry and brittle but keep folding and rolling. Fold the pasta sheet into an envelope shape and roll through machine again at the same setting 3 - 4 times to smooth.
Roll sheet at each setting once until you reach setting your desired thickness, this is usually between setting 5-7 depending on your machine. As you move between settings dust dough with a little extra tapioca flour to prevent pasta strands sticking together. Halfway through the rolling process you will need to divide the dough sheet into three portions (about 20 cm each) to make the pasta easier to work with. Pass the final sheet through the fettuccine or spaghetti rollers for delicate strands.
Cook pasta in a pot of salted boiling water for 3 - 5 minutes (3 minutes for al dente and 5 minutes for a softer pasta). Serve with your favourite pasta sauce.

To prepare gluten free pasta dough in a Thermomix place all ingredients in bowl and mix 10 sec/speed 6.
SaveSave