I love an easy recipe where you can throw everything in a pot and walk away. This tender pork literally falls to shreds as soon as it hits the fork and the recipe has zero added fat or sugar. The sweetness comes from fresh coconut water, the acid in the lime juice tenderises the meat and the pork magically fries in it's own fat at the final stage producing caramelised chunks of heaven.
The aromatic spice mix of cumin, coriander, pepper and garlic gives the pork a beautiful kick that complements the freshness of lime juice perfectly. Keep your eye on the pork at the end of the cooking time so that you don't burn it. The meat crisps quickly at the final stage and needs a gentle toss to help it caramelise evenly.
My son Vasili absolutely loves caramelised pork and requests it regularly. Given all I have to do is throw everything in a pot and walk away I happily oblige! Kids love this recipe because the pork is not spicy, super tender and full of flavour. It's the perfect one pot family meal. Make it once and you will go back to it again and again and again. Enjoy!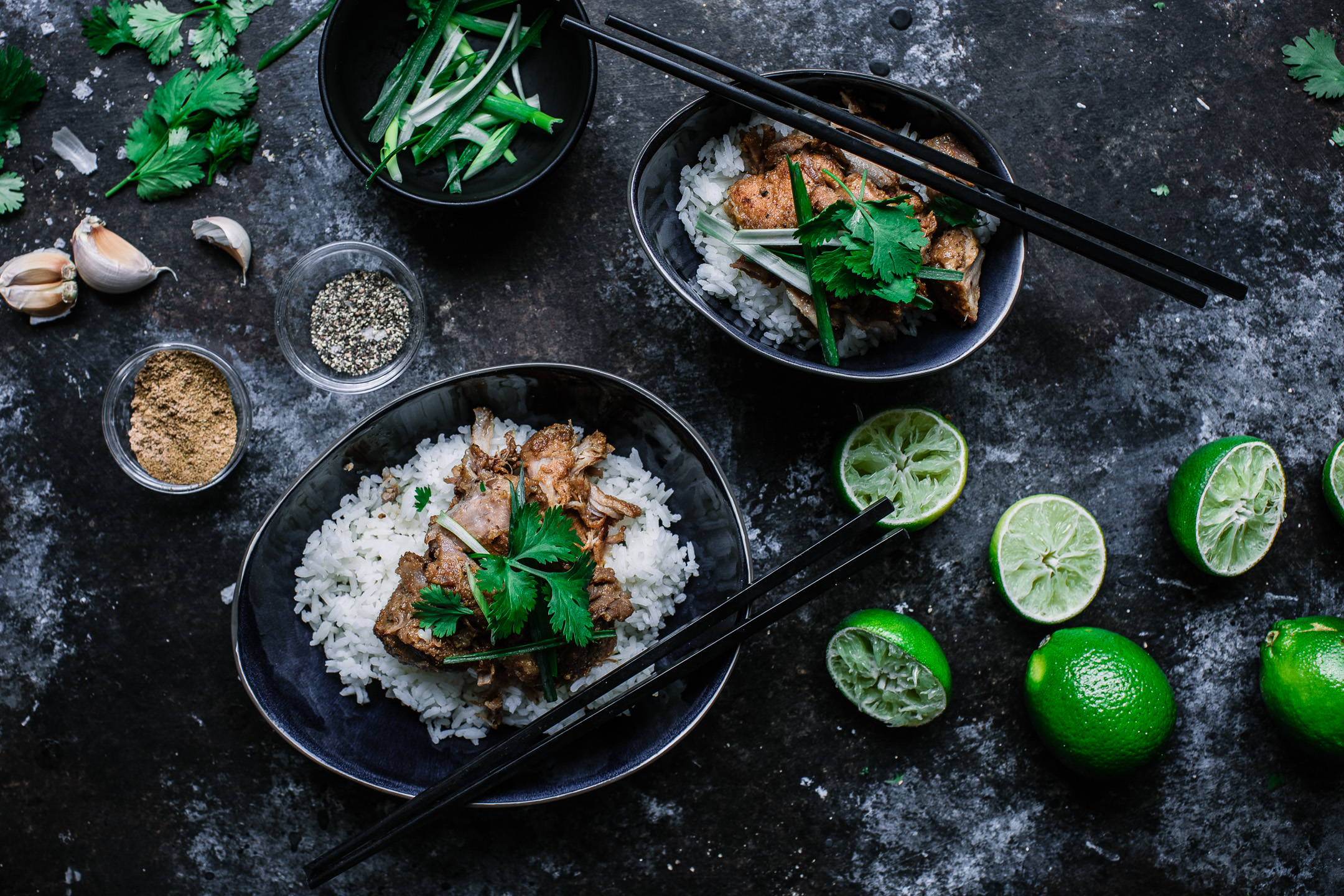 Easy One Pot Caramelised Pork Recipe
Ingredients
1.2 kg pork shoulder or neck, cut into large chunks


1 tbs sea salt flakes
1 tbs ground cumin
2 tsp ground coriander
1 tsp ground white pepper
1 tsp ground garlic


2 cups fresh coconut water (approx. 1 young coconut)
1 cup water
½ cup lime juice (approx. 4 limes)


To serve
Steamed rice (or cauliflower rice for a low carb version)
Fresh coriander
Instructions
Add pork and dry spices to a bowl. Rub seasoning all over pork and marinade for at least 30 min or overnight.
Add seasoned pork to a large heavy based pot. Pour in the coconut water, lime juice and water. Bring the pot to a boil and then reduce heat to low and simmer covered for 1½ hrs.
Remove the lid and simmer for 1 more hour uncovered. Keep your eye on the pork at the end of the cooking time because the liquid will evaporate quickly towards the end and the pork will fry in it's own fat. At this stage gently turn the pork cubes with tongs to brown on all sides. Remove from heat.
Serve with steamed rice and garnish with fresh coriander.