Did somebody say crispy fried karaage chicken and gluten free in the same sentence? We'll have three of those!
Not your typical Japanese izakaya, Cho Cho San is the most innovative Japanese restaurant I have ever visited. Don't expect your typical sushi rolls and nigiri platters here, instead you will be passing around the crab omelette and lamb cutlets.
The team behind Cho Cho San are restaurateur Sam Christie and Jonathan Barthelmess from The Apollo (just up the road on Macleay Street) and chef Nic Wong formerly of Ester and Billy Kwong (need I say more?). You can see similarities in the sleek and contemporary concrete fitouts of the two restaurants and the same could be said for the hip inner city crowd they both attract.
Dishes are prepared with tamari instead of a wheat based soy sauce which means almost the entire menu is gluten free. A rarity. Bring it on!
The two sashimi dishes we start with from the raw bar are both excellent – delicate hiramasa kingfish with pickled ginger and cucumber and a ridiculously creamy tuna, avocado and pickled eggplant.
We them move onto meltingly delicious grilled prawns in kombu butter and the tamari glazed beef short rib with it's perfect sweet charred flavour . The mains were accompanied by the best brown fried rice with shiitake and egg you will ever taste, I don't recall ever seeing brown fried rice on a menu before but it really works.
I have never been a huge fan of Asian desserts, but the light fruity combination of passionfruit, mango cream and ginger jelly was a pleasant way to end on a sweet note.
My favourite casual restaurant of 2015 due to it's inventiveness, cool vibe, amazing flavours and endless gluten free options.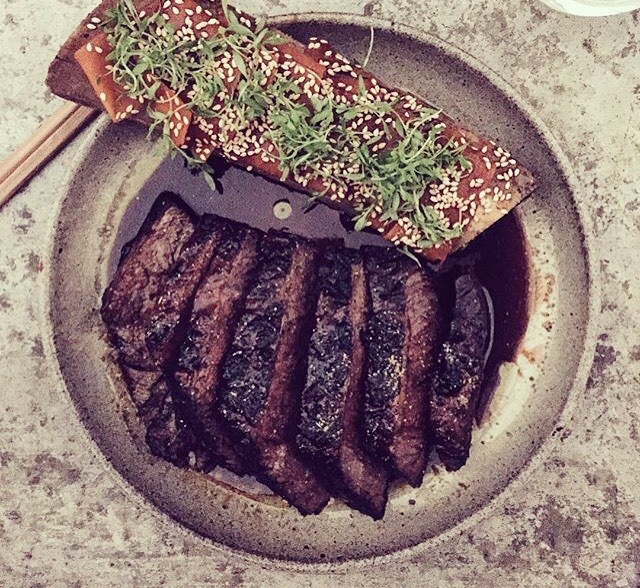 Stand out dish
Difficult to choose but I would say fried karage chicken and hiramisa kingfish sashimi.
Gluten Free Friendly?    
Extremely. Almost the entire menu is gluten free with the exception being a few dishes such as the pork katsu steam bun. I'm certainly not complaining.
Ambience
Casual hipster vibe.
Website
www.chochosan.com.au