Traditionally loaded with butter and cream, this gluten and dairy free potato gratin delivers creaminess and crispiness without a single drop of dairy. Imagine thinly sliced potatoes nestled in a bed of super creamy sauce seasoned with shallots, garlic, nutmeg and thyme. This is comfort food minus the guilt and heaviness often associated with butter and dairy cream. Your friends and family will be shocked to discover this creamy tray of yumminess is completely dairy free.
Before you get started here are a few tips to help you achieve that perfect balance of creaminess with a crispy golden top.
Slice the potatoes paper-thin on a mandolin so you get nice crispy edges. Slicing on a mandolin ensures your potato discs are uniform and stack neatly in the tray.
To prevent a lumpy sauce whisk your tapioca flour with 1/4 cup of the simmering stock to form a paste before adding it to the sauce. If you add the tapioca flour directly into the sauce it will form lumps.
Seal your baking tray very tightly to trap in the hot steam. You do not want the steam to escape during cooking. The heat softens the potatoes making them super tender.
For a super crispy caramelised top blast the tray with heat under a hot grill for 5 minutes at the final stage.
Rest the potatoes for 10 minutes after baking so they can soak up that delicious creamy sauce.
For a vegan version simply replace the chicken stock with a vegetarian stock. Too easy.
Once you've perfected the basic gratin get super creative with your toppings and flavour additions. Crispy bacon and pancetta are perfect additions as well as thinly sliced onion rings or leeks sandwiched between the potato discs. You are only limited by your imagination. Enjoy!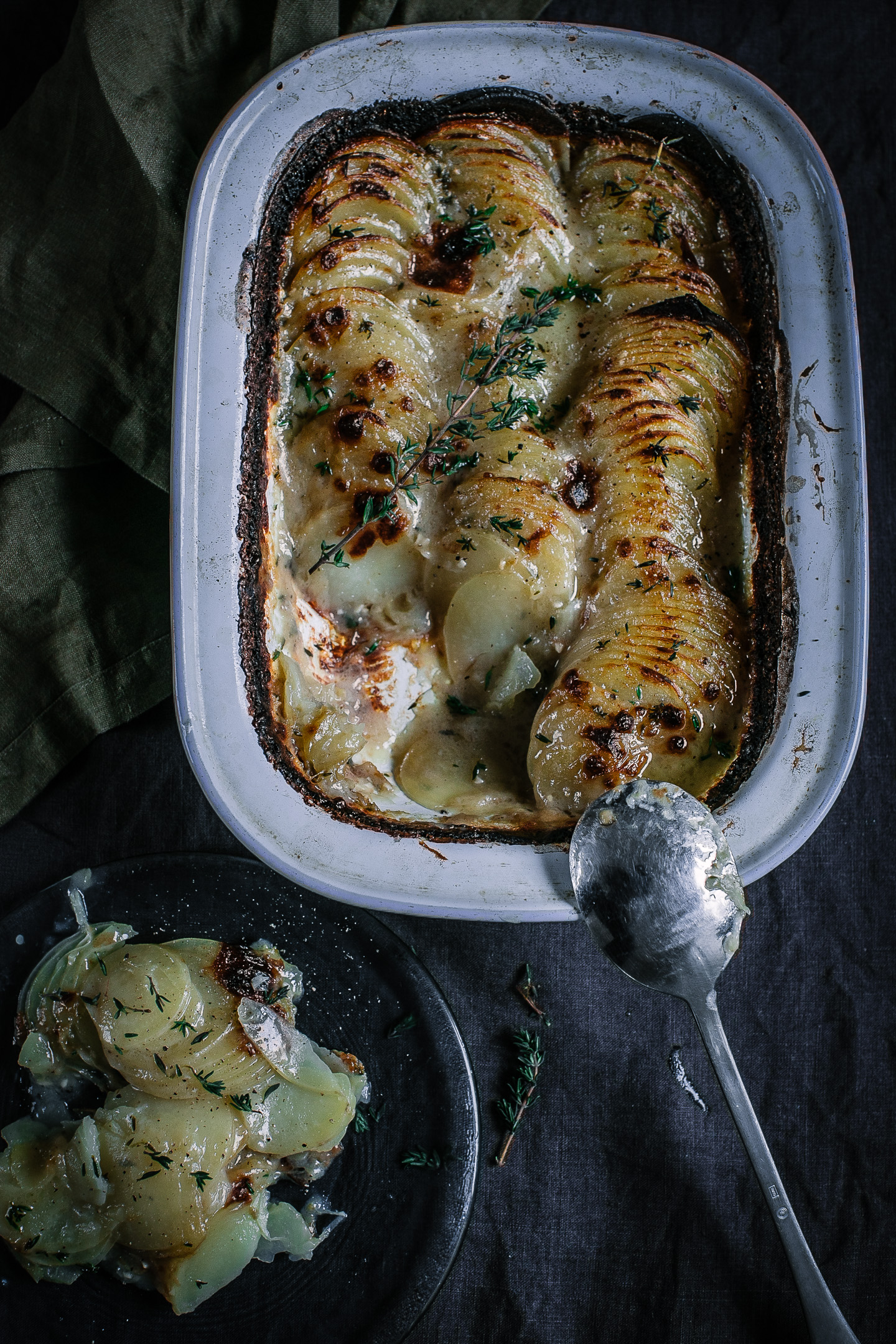 DAIRY FREE POTATO GRATIN RECIPE
Prep time:
Cook time:
Total time:
Ingredients
1kg unpeeled white potatoes, finely sliced on mandolin
1 tablespoon extra virgin olive oil
1 large shallot, finely grated
2 garlic cloves, finely grated grated
2 teaspoons fresh thyme + extra to sprinkle
2 teaspoons nutritional yeast
½ teaspoon freshly grated nutmeg
400ml coconut cream
250ml chicken stock
2 tablespoons tapioca flour
sea salt flakes and cracked pepper
Instructions
Preheat a fan forced oven to 200C and grease a 20 x 25cm rectangular baking tray.
In a medium saucepan add oil, shallots and a generous pinch of salt. Sauté for a few minutes to soften the shallot then add the garlic, thyme, nutritional yeast and nutmeg. Sauté for a further 30 seconds.
Pour in the coconut cream and chicken stock and gently simmer for 10 minutes uncovered to reduce the sauce. Add the tapioca flour to a small bowl and whisk in ¼ cup of the simmering sauce to form a paste. Stir the paste back into the sauce and simmer for 1 minute to thicken. Remove from the heat, taste the sauce and add extra salt if required.
Stack rows of potato slices in vertical layers in the tray. Pour the creamy sauce over the potatoes and sprinkle with pepper and extra thyme leaves. Tightly cover the tray with a sheet of baking paper and aluminium foil. Bake for 1 hour then remove the foil and bake for a further 20 minutes uncovered. For an extra crispy golden top blast with heat under a hot grill for 5 minutes. Rest for 10 minutes prior to serving.