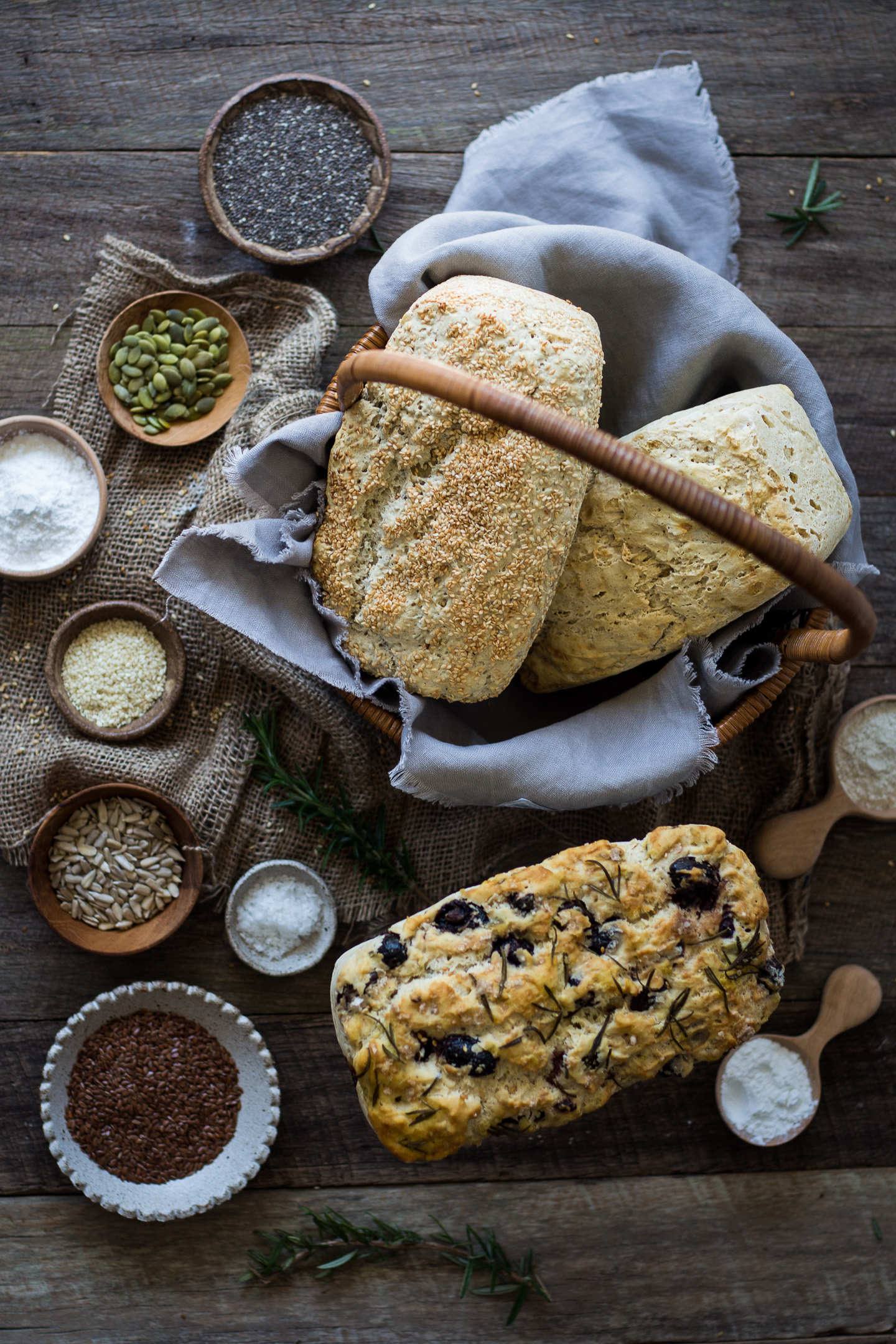 Ask anyone what they miss most when they switch to a gluten free diet and I can guarantee they will answer 'bread'. Not just any bread. Soft, light, moist bread that bends, does not disintegrate and does everything normal bread does.
After countless requests for a delicious gluten free bread recipe I decided to go back to basics this week and bake Perfect Gluten Free Bread 3 Ways – White, 5 Seed and Rosemary & Olive. I consumed copious amounts of bread during the 'production phase' (hello stretchy pants) and tested every gluten free flour combination possibly imaginable. The good news is your search for the perfect gluten free bread recipe is finally over! This bread is super soft, moist, springy, bouncy and absolutely delicious. Even those without a gluten allergy will devour it once it hits the kitchen bench.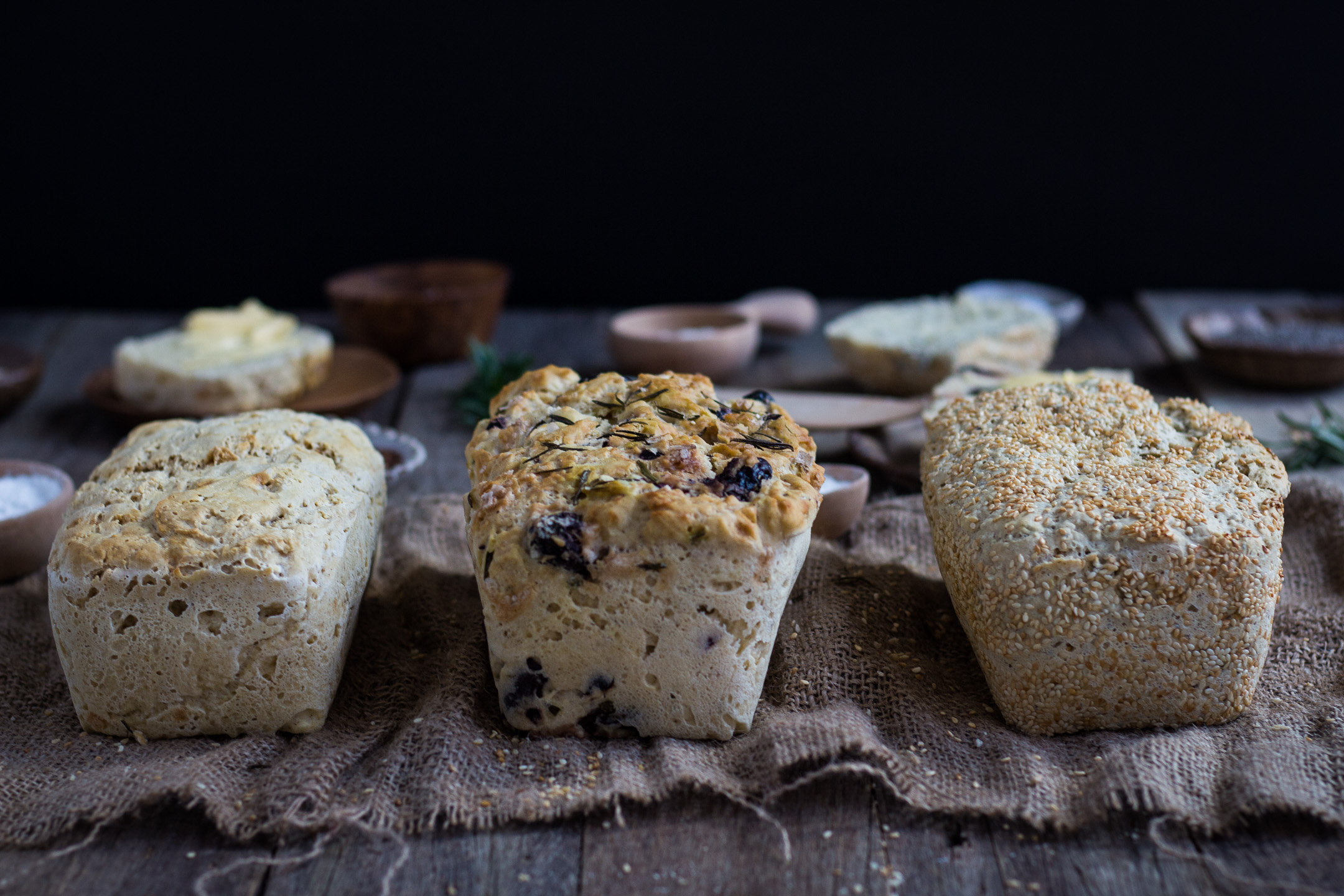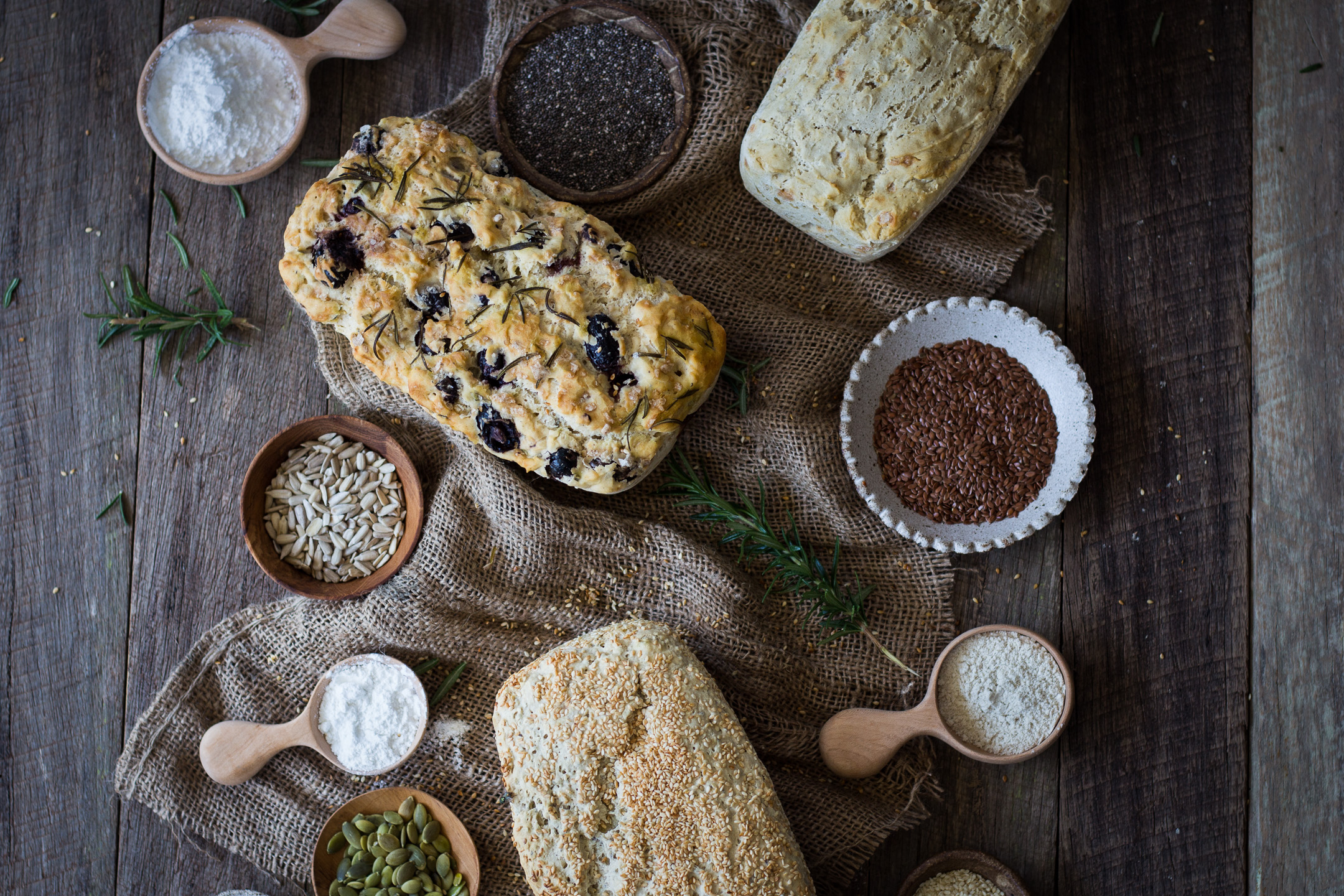 My personal favourite is the Rosemary & Olive version because I have a slight olive obsession. A drizzle of olive oil and sprinkling of sea salt flakes on the dough prior to baking results in the most beautiful golden crust, so ensure you don't skip this step.
The White version will appeal to the whole family and 5 Seeds is great for those who prefer texture, crunch and added goodness in their loaf.
Gluten free baking is a science so take care to use exact measurements otherwise the final result will be impacted. I level out my flour in the measuring cup with a knife to ensure my measurements are exact, not estimates.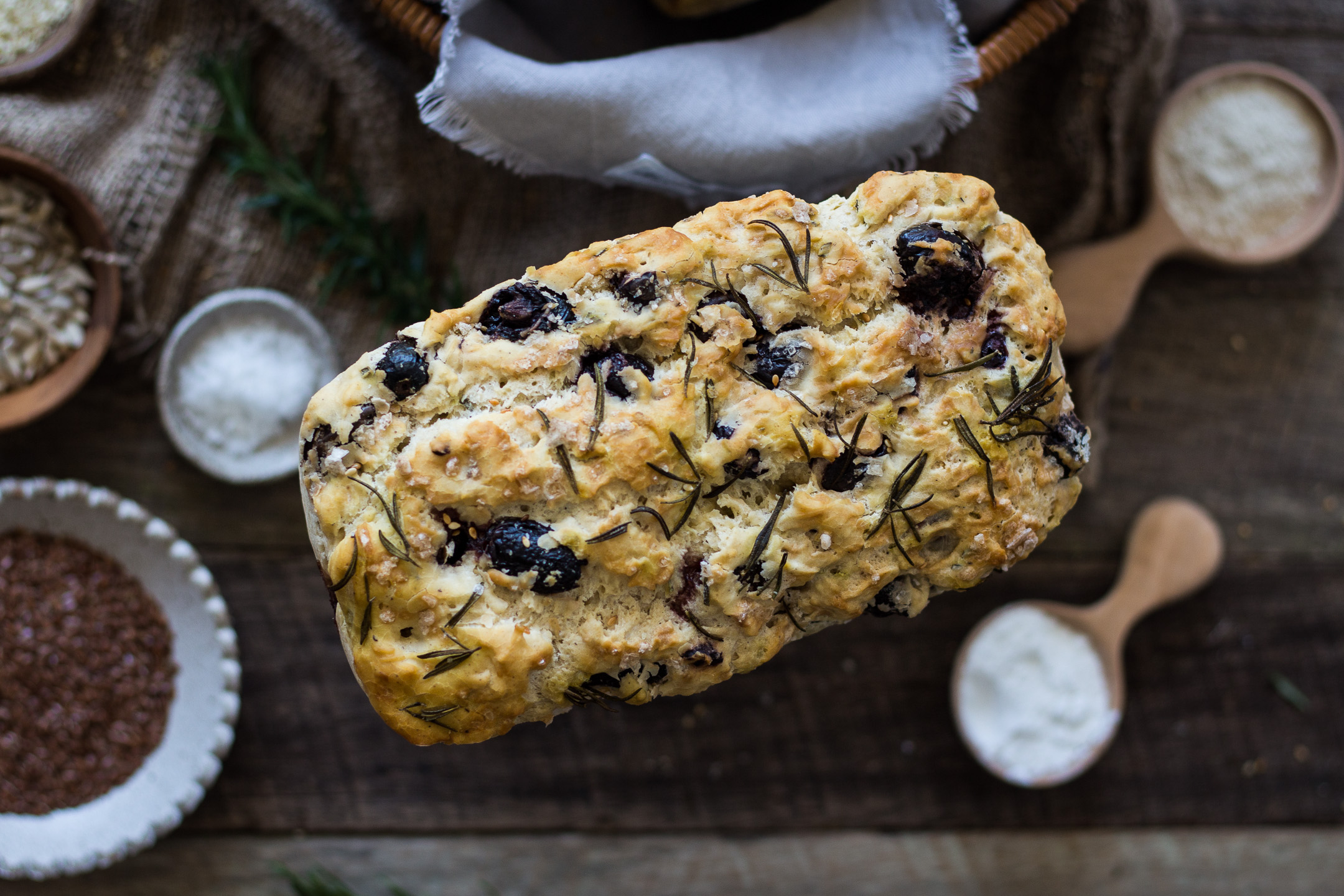 Now, a lesson on gluten free flour blends.
To create a well balanced gluten free flour blend it is ideal to combine wholegrain flour (such as buckwheat, sorghum, brown rice, teff, millet and quinoa) for protein and fibre with starch flour (such as sweet rice, potato, tapioca and corn) to provide bulk and hold the mix together. The ratio of each blend can be varied depending on what you are trying to achieve and how mild or earthy you want the final flavour to be. You can substitute flours in each category if you suffer from additional allergies. For example, if you suffer from a rice allergy you could substitute rice flour for tapioca. Be careful as you will need to adjust your quantities slightly because different flours have different weights and absorb water differently. At this point I would advise that you look for the correct texture when mixing. The dough should look like a thick, stretchy cake batter.
Here is a breakdown of each specialty flour and the role it plays in this bread mix.
Potato Starch is made from the dried starch component of peeled potatoes. It is great for adding moisture to dough and delivers a light, fluffy texture. Potato Starch can be found in health food and specialty stores and Asian grocers.
Tapioca is a flour made from the cassava plant native to South America. I love tapioca because it has a slightly sweet flavour and great binding properties that deliver a springy texture to baked gluten free goods. Tapioca is readily available in the supermarket baking or health food aisle.
Sweet rice flour (also known as glutinous rice flour) is ground from high starch short grain "sticky rice". It is an excellent ingredient for baking gluten free breads and cakes because it adds moisture and has exceptional binding qualities. It is not the same as regular rice flour ground from long grain or medium rice so do not confuse the two flours. Sweet rice flour is much higher in starch and this is desirable in gluten free baking.
Sorghum flour is ground from the ancient grain sorghum. It is a nutrition powerhouse high in protein, fibre and iron. Sorghum has a smooth texture and mild sweet taste adding delicious flavour to gluten free baked goods.
Xantham Gum is a great binding and thickening agent in gluten free baking. It helps trap the air bubbles created by leavening agents such as yeast to allow your bread to rise. It is derived from the outer layer of the Xanthomonas Campestris bacteria.
Apple Cider Vinegar helps give the yeast mixture a boost to create a beautiful rise when baking.

Perfect Gluten Free Bread 3 Ways
Ingredients
300mL lukewarm water
1 tsp sugar
1 x 7g yeast sachet
1 cup or 120g tapioca flour
1 cup or 120g sweet rice flour (also known as glutinous rice flour)
¾ cup or 120g potato starch
½ cup or 70g sorghum flour
2 tsp sea salt flakes
½ tsp xantham gum
2 eggs lightly whisked, room temperature
3 tbs olive oil
1 tsp apple cider vinegar
Instructions
Add sugar and yeast to lukewarm water. Whisk together and let it stand for 15 minutes until mixture foams.
Sift flours, salt and xantham gum together in a mixing bowl or place in a Thermomix and blend speed 5/3 sec.
Add eggs, olive oil, vinegar and yeast mixture and beat to combine in mixing bowl or in Thermomix speed 4/15 sec scraping sides down halfway.
Spoon mixture into a 20 x 10cm loaf tin and cover with cling wrap. Allow bread to rise in a warm place for 1 hr until it doubles in size.
Preheat oven to 200C. When oven is ready, drizzle olive oil on dough to create a golden crust when baked.
Bake for 50-55 minutes or until golden and a skewer comes out dry.
Remove from oven and immediately transfer to a wire rack to cool. This helps your crust stay crispy. Cool for at least 2 hrs before slicing.
5 Seed Bread
Add 1 tbs of each of the following seeds to dough mixture and mix to combine - pepita seeds, sunflower seeds, sesame seeds, linseeds and chia seeds. Sprinkle sesame seeds on base and sides of tin prior to spooning dough in tin to create a seeded crust.
Rosemary & Olive Bread
Add 2 cups of pitted kalamata olives and 2 tbs of chopped rosemary to dough mixture and mix to combine. Prior to baking sprinkle rosemary and sea salt flakes on loaf and drizzle with olive oil.This loaf requires an extra 5 min baking time due to extra moisture and volume from the olives.