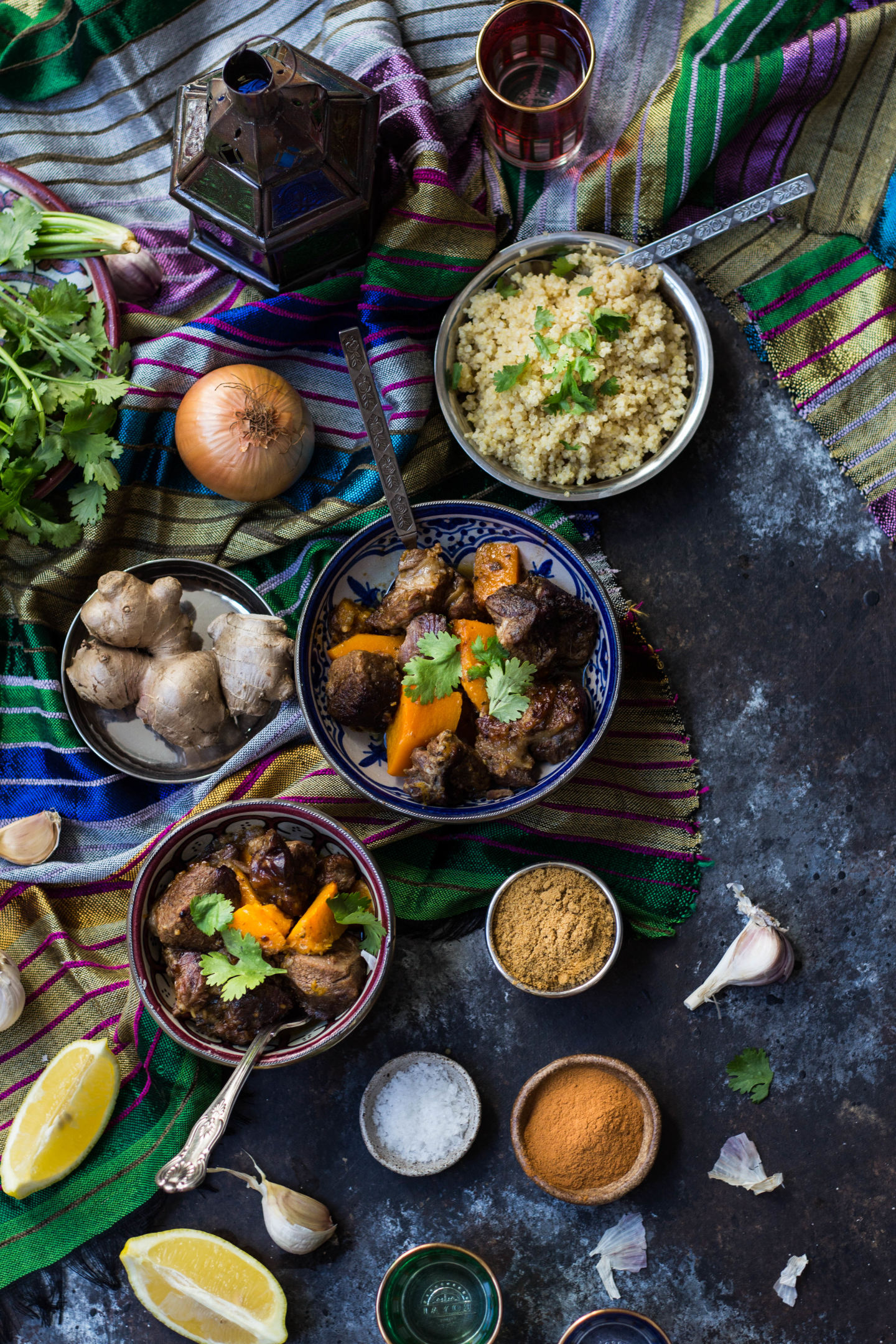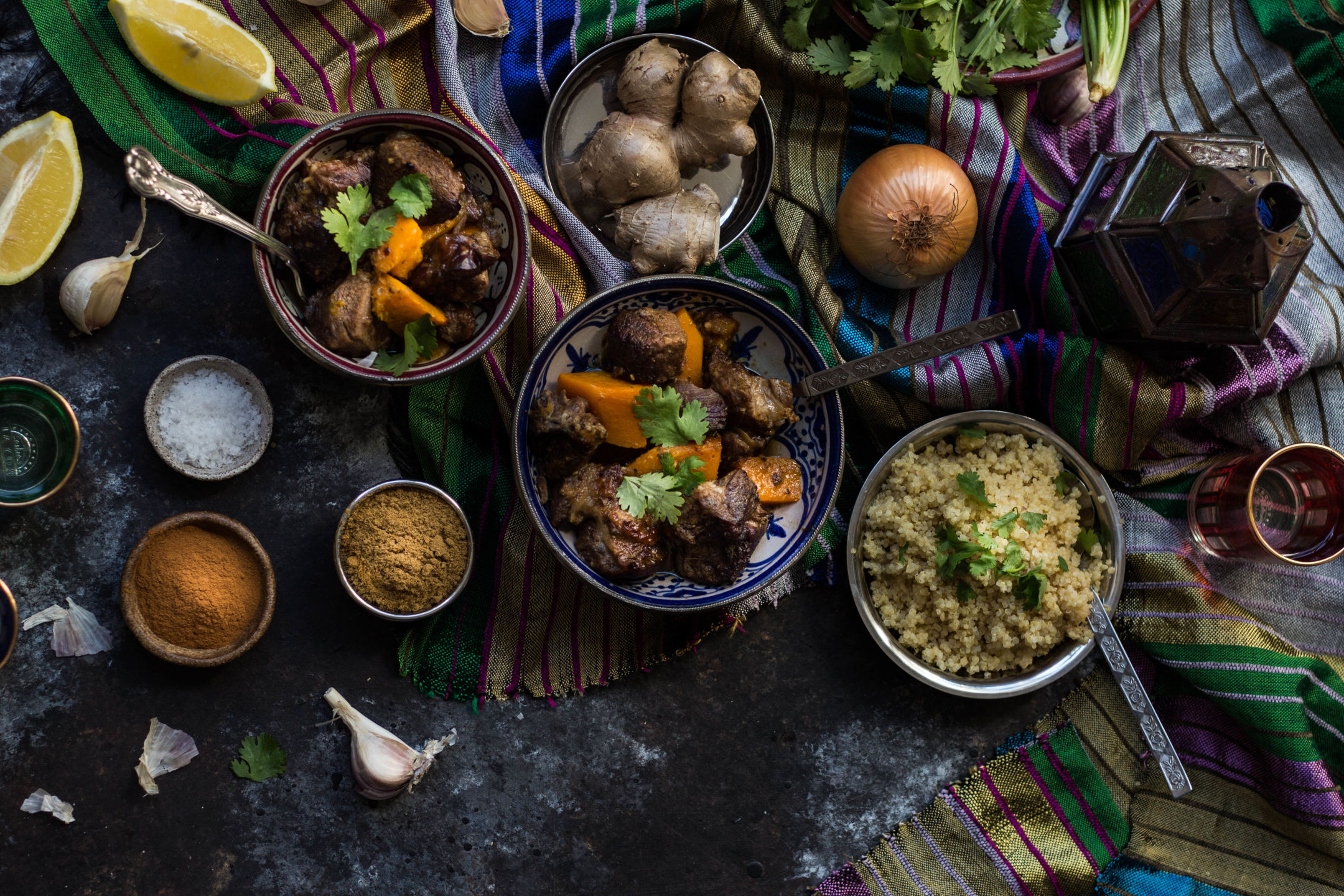 This stunning Moroccan tagine is wonderfully aromatic and so easy to make, you simply throw everything in a pot and let it simmer away. You get subtle sweetness from cinnamon scented pumpkin, freshness from fragrant herbs and juiciness from succulent fall apart lamb. Traditionally tagines are served with couscous but in my gluten free version I have replaced couscous with quinoa which is far superior nutritionally. Kids love the fluffy texture and nutty taste of quinoa and it soaks up the sauce beautifully in this family recipe.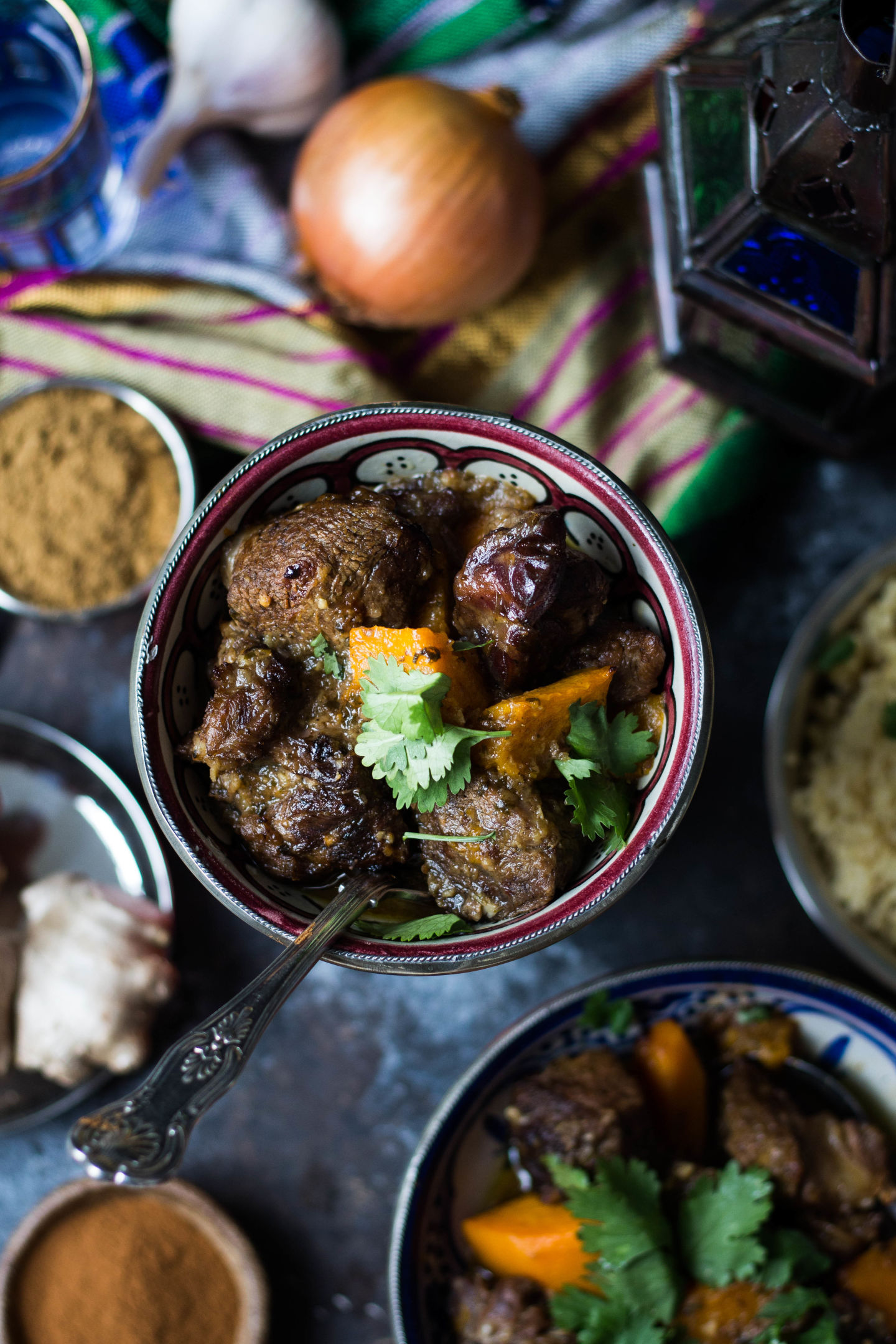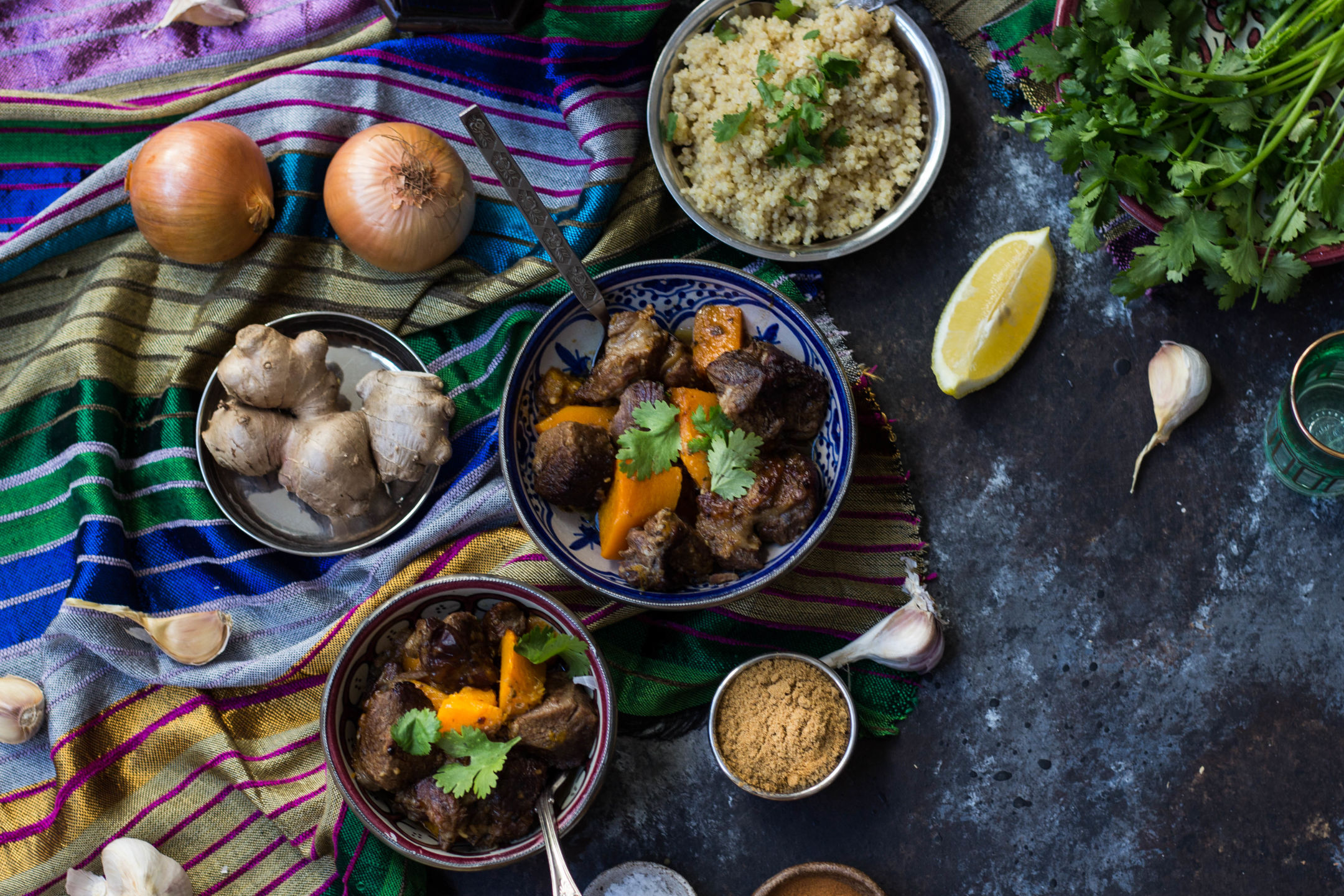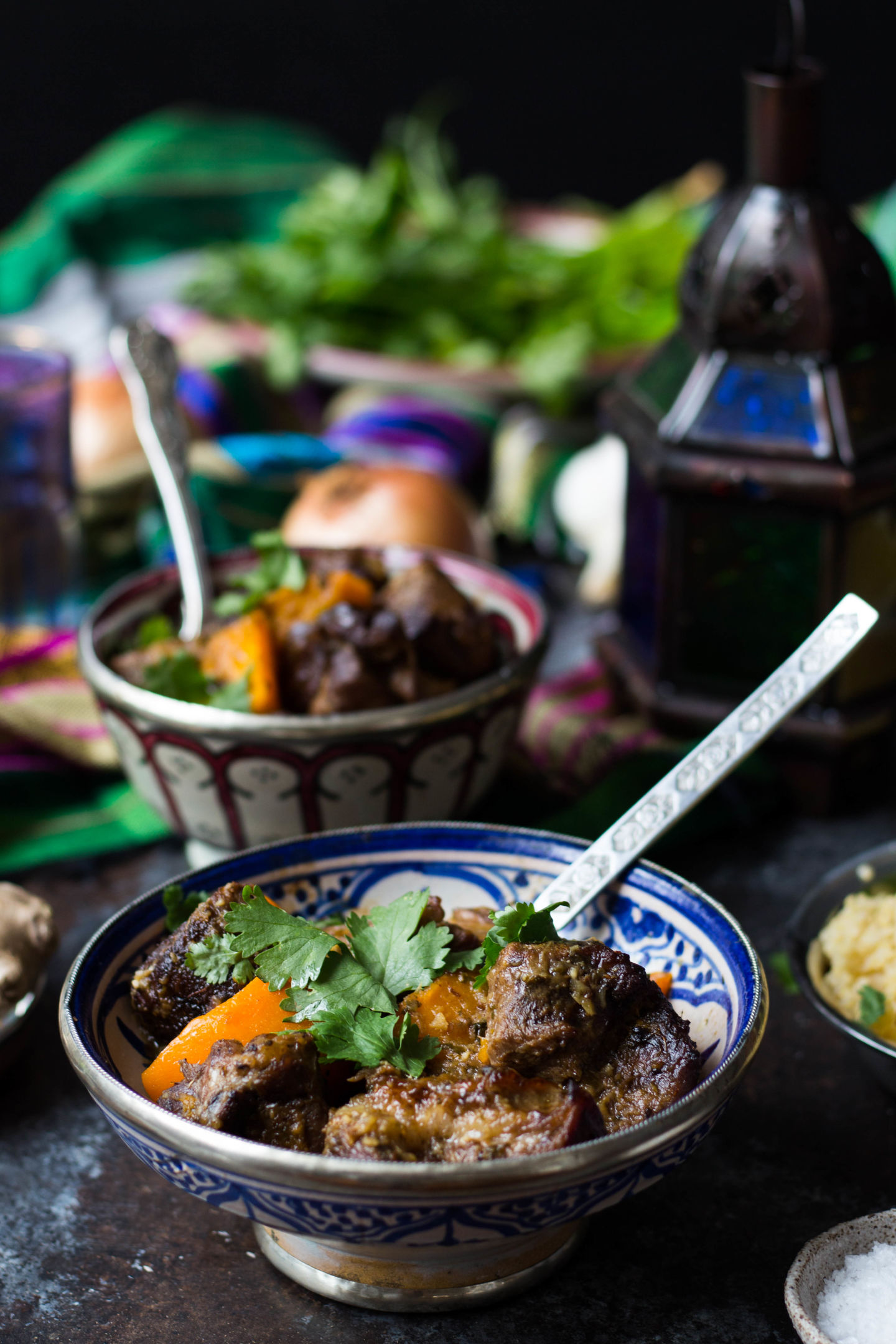 Moroccan Lamb Tagine with Pumpkin & Quinoa Gluten Free
Ingredients
Marinade
3 garlic cloves
2cm piece of ginger
1 small brown onion
½ cup coriander leaves
½ teaspoon ground coriander
½ teaspoon ground cumin
½ teaspoon cinnamon
3 tablespoons extra virgin olive oil
1 tablespoon sea salt flakes
Pinch of cracked pepper


1 kg lamb shoulder, deboned, cubed and trimmed of fat
2 cups chicken stock
Juice of 1 lemon
300g butternut pumpkin, cut into cubes
1 cup quinoa, rinsed
2 cups water


Coriander leaves to serve
Instructions
Conventional Method
Combine all marinade ingredients in a food processor and blitz to form a paste. Combine the lamb and marinade in a bowl and let the meat marinate for at least 3 hours or overnight.
Preheat a fan forced oven to 180C.
Heat a heavy based pot over medium to high heat. Drizzle a little olive oil in the pot then sear the lamb for 5 minutes until browned all over.
Pour in the chicken stock and lemon juice, cover the pot and place in the oven for 2 hrs.
Remove the pot from oven, stir in the pumpkin and return to the oven for 30 minutes.
In the meantime cook the quinoa by adding it to a saucepan with with water. Place lid on and simmer over low heat for 10 minutes. Remove from heat and cool with lid on.
Remove lamb tagine from oven and adjust seasoning if necessary, scatter with coriander leaves and serve with quinoa.
Thermomix Method
Combine all marinade ingredients in Thermomix bowl and mix 10 sec/speed 6.
Combine the lamb and marinade in a bowl and let the meat marinade for at least 3 hours or overnight.
Preheat the oven to 180C.
Heat a heavy based casserole pot over medium to high heat. Drizzle a little olive oil in the pot then add lamb and marinade and stir occasionally for 5 minutes or so until lamb is browned.
Add the chicken stock and lemon juice, place the lid on the pot and place in the oven for 2hrs.
Remove pot from oven, stir in the pumpkin and return to the oven for 30 minutes.
In the meantime prepare the quinoa by rinsing under water to remove grittiness. Place water,salt and quinoa in mixing bowl and cook 15 min/100C/speed 2. Rest for 5 min then fluff with fork.
Remove lamb tagine from oven and adjust seasoning if necessary, scatter with coriander leaves and serve with quinoa