I've just returned from a fun (and food) filled family vacation to Greece. My highlights were exploring the Acropolis with the kids and teaching them about their Greek heritage, swimming in the crystal clear turquoise waters of Zakynthos and Kefalonia and getting lost in the spectacular cobblestone streets of Mykonos town – a maze of narrow streets filled with pink bougainvillea cascading over stark white cubic buildings.
The Greek food was mouthwatering. One dish that consistently featured on the menu of almost every taverna we visited was baked feta wrapped in filo pastry drizzled with honey and sesame. Unfortunately I could never eat it because the filo contained gluten so I watched in envy as my family devoured this sweet salty delicacy. When I returned home I decided to give this classic Greek dish a gluten free makeover. Instead of wrapping the feta in filo I baked it in a sesame crust. It cooked beautifully and the warm feta lusciously oozed out as soon as I cut into the block.
This dish actually originates from my mother's island of Crete, home of all insanely delicious sweet salty combinations. You will often find fried versions of sesame crusted feta on Greek restaurant menus but I find this method does not melt the feta properly. If you want the feta to ooze out baking is the way to go, and it's much healthier.
To serve, simply drizzle honey over the crust and watch it fly off the plate as soon as it hits the dinner table. Minimum effort, maximum flavour and a taste of Greece in every delicious bite.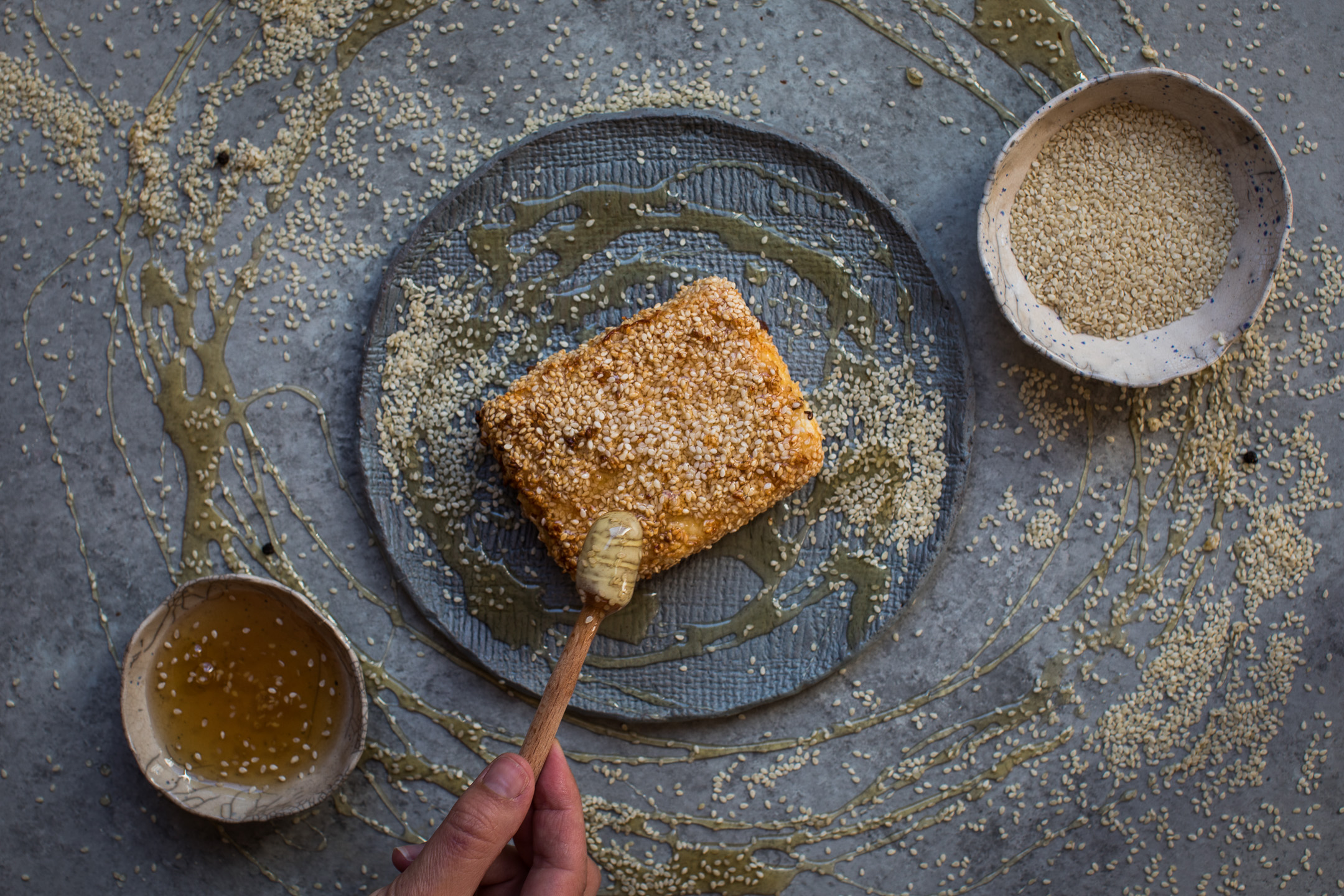 Baked Feta with Sesame Crust and Honey
Prep time:
Cook time:
Total time:
Ingredients
200g block of Dodoni feta
¼ cup tapioca
pinch of cracked pepper
1 egg, lightly whisked
¼ cup sesame seeds
2 tablespoons raw honey
Instructions
Preheat oven to 180C (fan forced).
Set up 3 dipping stations. Flour and cracked pepper in one bowl, whisked egg in another and sesame seeds in the last.
Start by dusting feta in the flour, next dip in the egg then finish by coating in sesame seeds. Place feta onto an oven tray lined with baking paper. Bake for 30 minutes, flipping over halfway.
Serve with honey drizzle.
SaveSave