My favourite thing to do when visiting Melbourne is to explore the little hidden dining gems in the maze of gothic laneways off the city's main grid. Gingerboy is a perfect example of what is so uniquely Melbourne – a funky Asian neon lit restaurant discreetly hidden in the backstreets.
The dining room has a glamorous futuristic fitout – transparent chairs, glossy bamboo walls and vibrant artwork. It is the perfect backdrop for the tasty and  fragrant dishes to come.
The waitstaff are well informed and guide me through the gluten free options and signature dishes. I'm happy to discover the infamous son in law eggs with chilli jam are gluten free. These heavenly eggs are perfectly runny on the inside and firm on the outside. When combined with the coriander, shallot and mint dressing a million flavours start dancing on my tongue. A great start.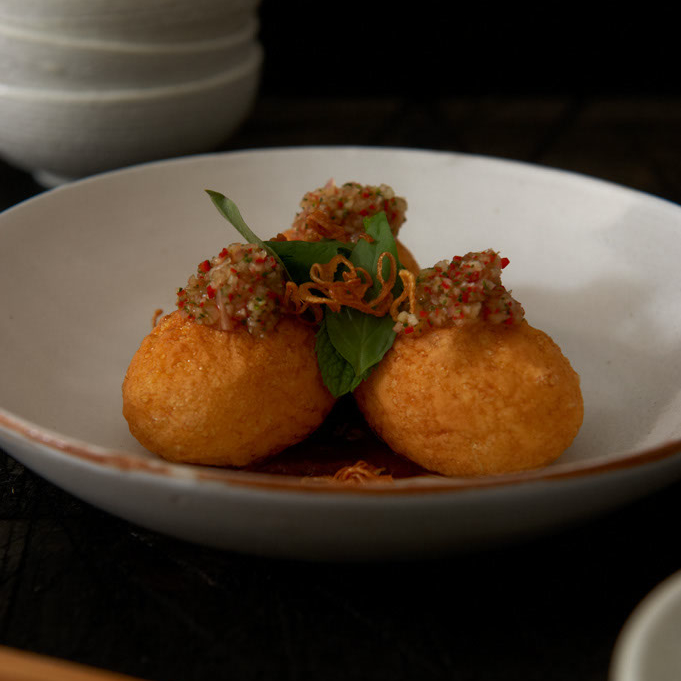 Moving onto larger plates the whole fried baby snapper is deliciously crispy and flaky at the same time and perfectly paired with a robust chilli lime, paw paw and coriander dressing. By this stage I'm getting quite full and my mouth is trying to dissect lots of different flavours but of course I still manage to fit in dessert. My pineapple and lime sago salad with toasted coconut is light and refreshing and a great way to end the night.
Flavour is king at Gingerboy. The food is just fantastic, the room is stunning and the vibe is really cool. I will definitely be returning on my next visit to Melbourne.
Stand out dish
Whole fried baby snapper with chilli lime, paw paw and coriander.
Gluten Free Friendly?
There are numerous gluten free options to choose from in both small and large plates.
Ambience
Sleek, stylish, funky.
Website
www.gingerboy.com.au