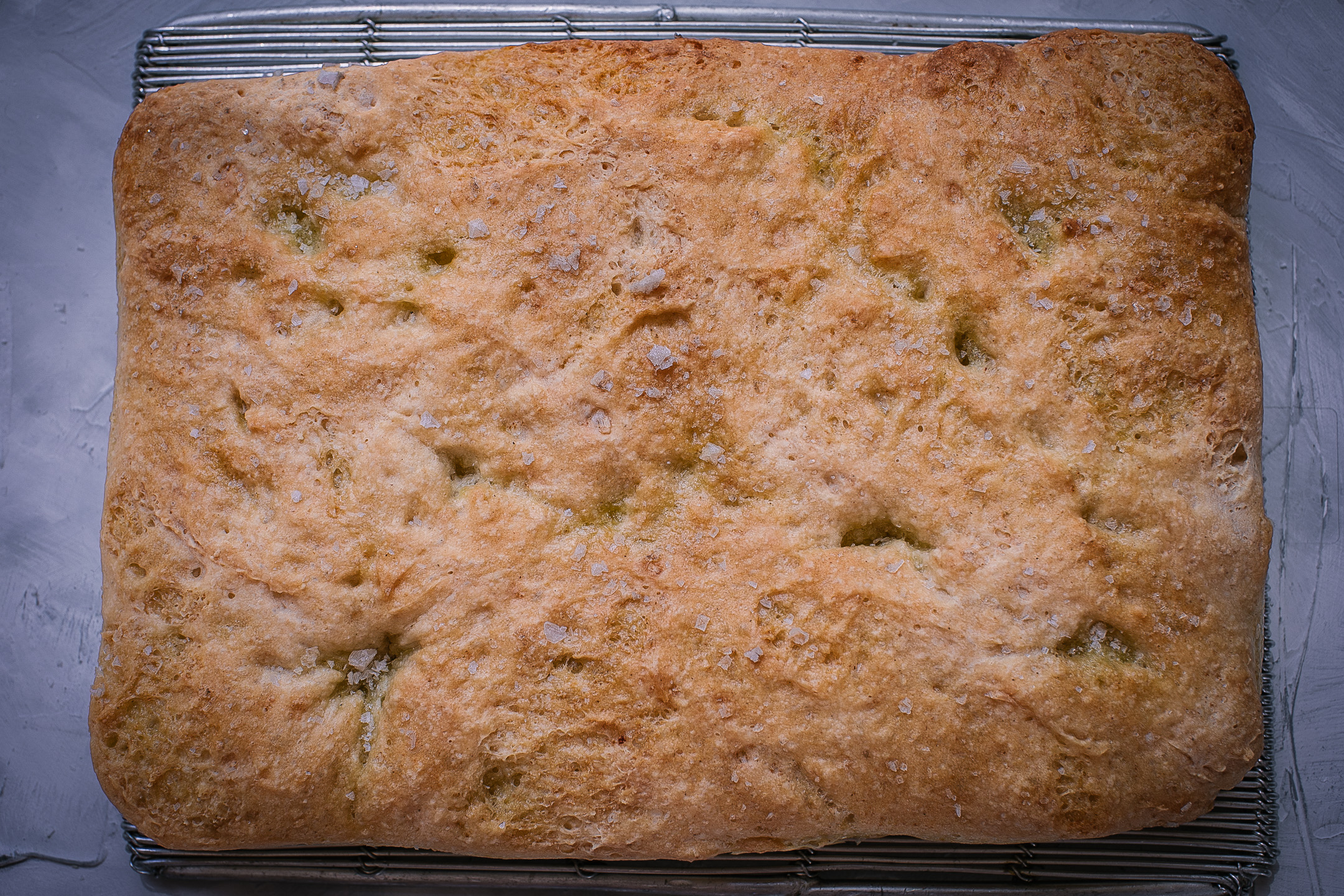 Focaccia is a fluffy flat baked Italian bread with a golden crust.  This delicious gluten and dairy free vegan focaccia recipe is very easy to make. Forget kneading and overcomplicated steps, this bread comes together in a flash and the results are incredible – a perfectly crisp golden top, crunchy olive oil base and tender light and fluffy centre. The most challenging part is waiting an hour for the dough to puff up, that's as difficult as it gets.
This recipe is for a basic gluten free focaccia but feel free to top it with your favourite ingredients. My favourite combos are rosemary and olive, chorizo and cherry tomato and caramelized balsamic onions with goats cheese. Treat your basic gluten free focaccia like a pizza base and get creative as you like, anything goes here.
Before you bake your first gluten free focaccia from scratch here are a few tips-
The brand of flour you choose will impact the final result. I made this focaccia with Mulino Caputo Gluten Free Flour. This flour is incredible for bread and pizza because it contains gluten free wheat starch which creates a very gluey stretchy dough. In Sydney you can find this brand at Harris Farm and gourmet grocers. If you live outside Sydney it is best to contact the distributor to find your nearest stockist.
Ensure your water is lukewarm so the yeast activates properly. If it is too cold the dough won't rise and if it is too hot you will kill the yeast.
Grease your baking tray generously with olive oil so you get that signature oily focaccia crust. Once the dough has risen drizzle the top with extra olive oil and a scattering of sea salt flakes before popping it in the oven. The oily golden crust is the best part so please don't skimp on the oil!
Unlike regular focaccia dough, this gluten free dough is wet like a cake batter. Use a spatula to transfer the batter into a greased baking tray and spread the batter into the corners of the tray.
Use the correct baking tray size to help shape the focaccia into a neat rectangle. My tray is 30 x 23cm so use a tray as close to this size as possible to help form the shape.
Follow these simple steps and I guarantee you will be rewarded with the most magnificent gluten free focaccia. Once baked store your bread in an airtight container for up to 3 days. After this freeze any leftover slices for up to a month then just pop them in the toaster for breakfast. Too easy!
GLUTEN FREE FOCACCIA RECIPE
Prep time:
Cook time:
Total time:
Ingredients
500g Mulino Caputo Gluten Free Flour
1 x 7g dried yeast
3 teaspoon sea salt flakes
450mL warm water
3 tablespoons extra virgin olive oil


to garnish, extra salt flakes and olive oil
Instructions
Combine flour, yeast and salt in a bowl and mix on low speed to combine.
Add water and oil and mix to form a wet batter.
Spoon wet batter into a 30 x 23cm baking tray generously brushed with olive oil. Cover in cling wrap and rest in a warm spot for 1 hour.
Remove cling wrap. Drizzle dough with extra oil and sprinkle over sea salt flakes.
Bake focaccia in a 220C fan forced oven for 30 - 35 minutes until golden. Cool slightly before slicing.