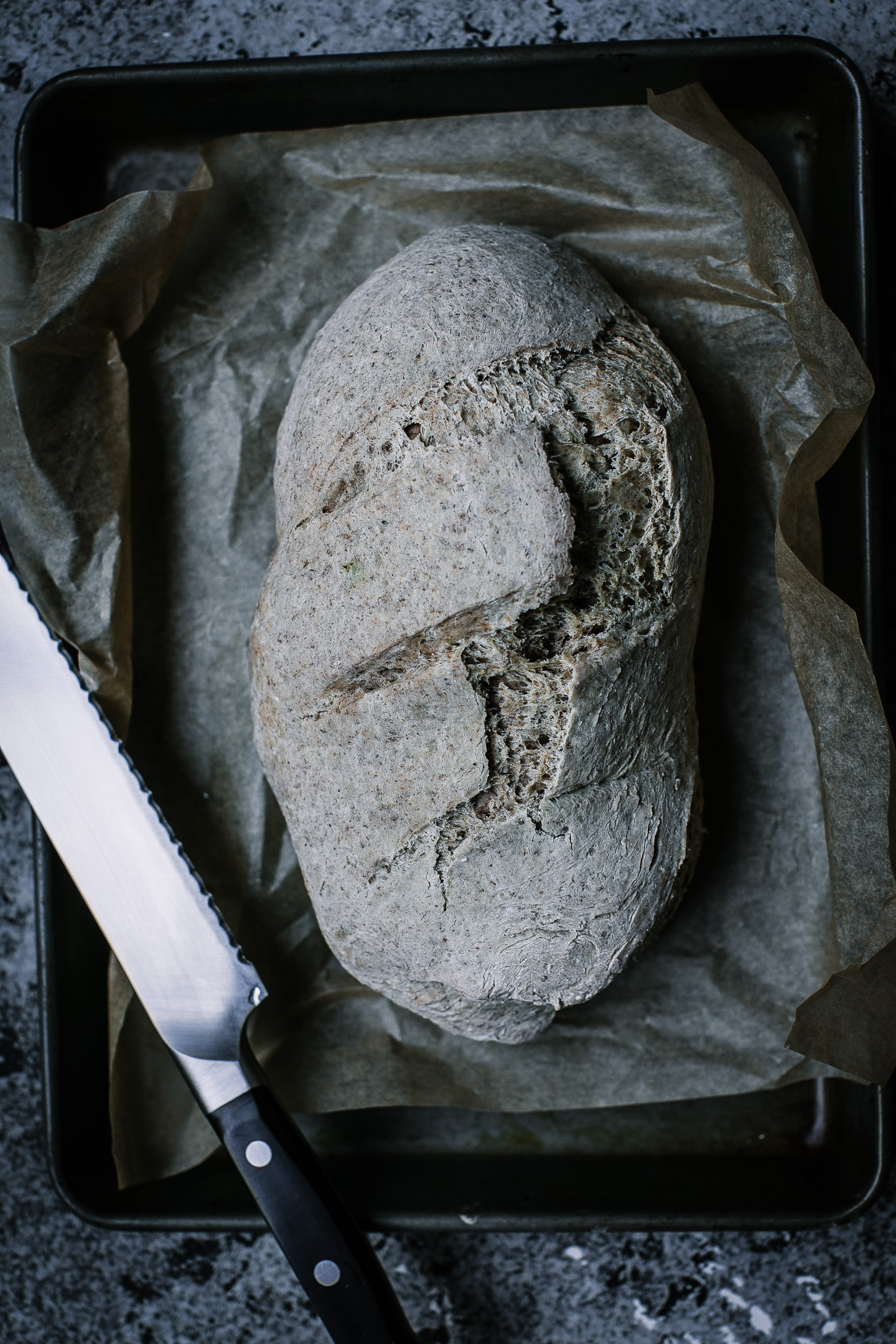 After countless requests for a yeast-free gluten-free bread vegan recipe I decided to create a nutritious and delicious bread that is completely allergy friendly so nobody has to miss out. No yeast means there is no rising time. This soft bouncy bread is super quick and easy to make and it ticks all the allergy boxes –
Gluten Free
Yeast Free
Dairy Free
Egg Free
Nut Free
Grain Free
100% Vegan
Simply combine your dry ingredients in a bowl then pour in two wet ingredients and knead for a few minutes. Done! Once baked the bread looks rustic and artisanal with a crusty exterior and soft bouncy centre. Feel free to add a few tablespoons of your favourite seed mixture to the dough to create a seeded loaf. I've kept the bread recipe basic so you can add whatever you like and get creative with your additions. Some of my favourite inclusions are kalamata olives, rosemary, linseeds, pepitas, caramelised onion and fennel seeds.
The magic ingredient in this recipe is psyllium husk. Not only is psyllium husk high in fibre and great for gut health, but it also adds that much needed stretch required in gluten-free baking. Psyllium has excellent water solubility properties so it thickens quickly when whisked with water to create a 'glue' that helps form a ball of dough that can be kneaded into any shape. I have used whole psyllium husk in this recipe, not psyllium husk powder which is more concentrated. If you use the powder reduce the quantity of psyllium by half.
Tapioca and buckwheat are my preferred flours in bread baking. Tapioca provides that lovely bounce and buckwheat adds structure to the loaf in addition to a wholesome fibre and protein boost. Tapioca is derived from the cassava plant and buckwheat is a seed so both flours sit in the 'grain free' category.
Once you've made this yeast-free gluten-free vegan bread and see how simple it is you will come back to this recipe again and again. The bread stores in an airtight container on the bench for up to 4 days or in the freezer for a month but the loaf isn't overly large so I'm sure it will disappear in a few days.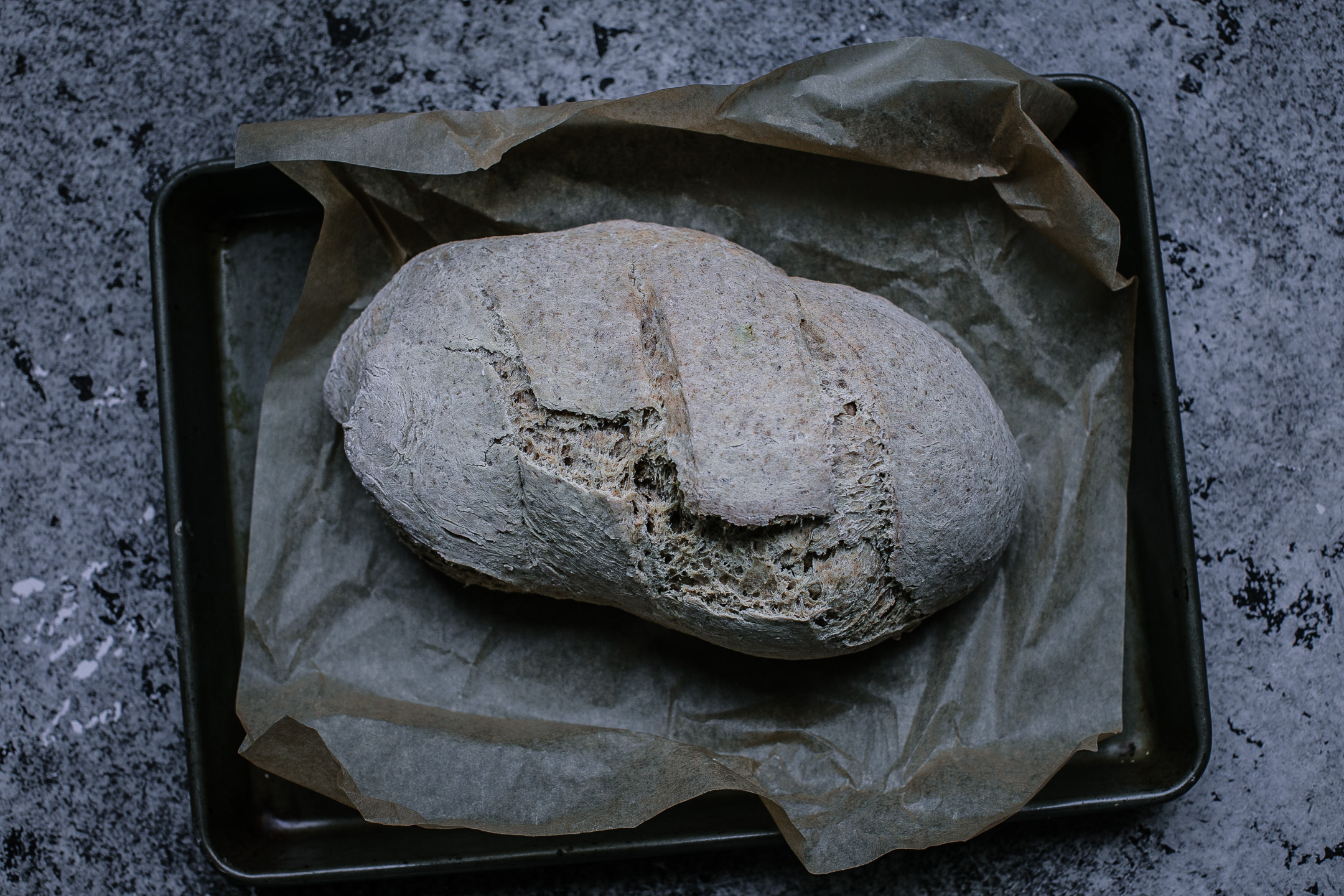 YEAST FREE GLUTEN FREE VEGAN BREAD RECIPE
Prep time:
Cook time:
Total time:
Ingredients
2 tablespoons psyllium husk*
1⅓ cup or 160g tapioca flour
1⅓ cup or 160g buckwheat flour**
1½ teaspoons sea salt flakes
2 teaspoons gluten free baking powder
¼ teaspoon baking soda
¼ cup extra virgin olive oil


* I have used whole psyllium husk not psyllium husk powder. The powder is more concentrated so if you use the powder only use 1 tablespoon.
** Flour weight per cup can vary by brand so always measure by weight, in this instance 160g of flour.
Instructions
Preheat a fan-forced oven to 180C.
Add psyllium husk to 1 cup (250ml) water and whisk to combine. Set aside to thicken for 5 minutes.
In a mixing bowl with a dough hook attachment add all the dry ingredients and mix to combine.
Add wet psyllium mixture and olive oil to the dry ingredients and mix with a dough hook on low speed for about 3 minutes until a ball of dough is formed. If the mixture is too dry add more water, if too wet add more tapioca flour.
Knead dough into a log and place onto a lined baking tray. Slice 3 incisions on top of the loaf and brush with extra olive oil. Bake for 1 hour until golden. Transfer to a wire rack to cool completely before slicing.